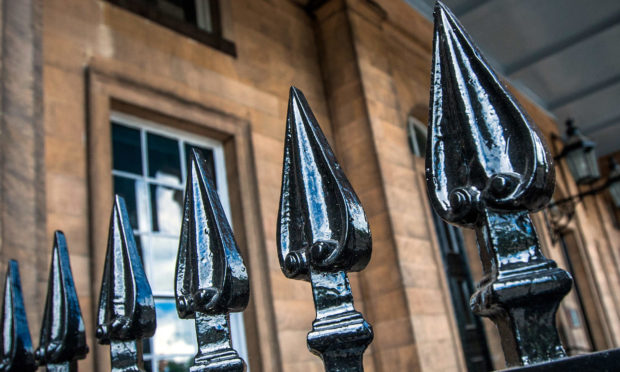 A family dispute over a gravestone saw a dead woman's brother in the Perth Sheriff Court dock.
Michael McLellan had tried to arrange for his sibling's grave to be marked but claimed her family would not co-operate.
Perth Sheriff Court was told that there has been animosity between McClellan and the woman's family since her death.
Matters came to a head when McLellan tried to force his way into the family home and was arrested.
Fiscal depute Tina Dickie told the court: "Mr Pollock and Mr Hardy are the complainers. The accused is Mr Pollock's uncle.
"In February 2016 Mr Pollock's mother, the accused's sister, died and there has been conflict over the death, family members and associated matters.
"At 12.30pm witness Hardy was in the locus in a bedroom when he heard knocking at the door but decided to ignore it. He then heard knocking at the living room window and could see that it was the accused. The accused was shouting for 'Anthony', witness Pollock's father.
"He returned to the door and continued to knock and shout through the letterbox for Anthony and was again ignored.
"For about five minutes the accused went back and forward between the door and window. Realising he was not going to stop, witness Hardy opened the door and the accused tried to push past him.
"Witness Hardy told the accused he was not getting in but the accused tried to push past him again. Witness Hardy managed to get him out and locked the door."
McLellan continued to hammer on the door and police were called.
Solicitor Cliff Culley, representing the 47-year-old, said the incident stemmed from his sister's death.
He said: "His sister's grave doesn't have a stone. Mr McLellan has arranged that but it needs to have the agreement of Mr Pollock. The family have been blocking him – he needs their consent but they are not co-operating.
"He appreciates he should not have been so persistent in trying to talk to her husband."
McLellan admitted behaving in a threatening and abusive manner by attempting to force entry, repeatedly banging on a door and window and repeatedly shouting and swearing at a property Perth's Lewis Place on September 3.
Sheriff Richard McFarlane said: "Issues of this nature need to be addressed in a more dignified manner."
Sentence on McLellan, of Honeysuckle Place, Southampton, was deferred until December for him to be of good behaviour.