A Perth thug who was placed on curfew for racially abusing a female police officer attacked his pregnant girlfriend when she threatened to remove his tag.
George Stewart was ordered by a court to stay home between 7pm and 7am each night, after he was caught with a knife in Coupar Angus.
As he was arrested, he launched into an obscene anti-Irish tirade and told one officer – who had an Irish accent – to "get back to where you came from."
Stewart returned to Perth Sheriff Court and admitted assaulting his partner – who was eight-and-a-half months pregnant – at their home in last month.
The court heard 30-year-old Stewart lashed out during an argument, when his partner threatened to switch off his electronic tag.
'You shouldn't make me angry then'
Fiscal depute Bill Kermode said: "The complainer and the accused have been in an on-off relationship for about two years.
"The complainer described the relationship as 'bad from the start.'
"Both were using drink and drugs."
Mr Kermode said: "The complainer was about eight-and-a-half months pregnant at the time.
"At about 3pm, they went to sleep because they were both unwell.
"Later that night, they both woke up and began arguing.
"This continued for some time."
The fiscal depute said: "At about 12.35am, the complainer threatened to turn off the accused's tag box.
"This caused the accused to become aggressive.
"She called 999 and provided the address, but then hung up."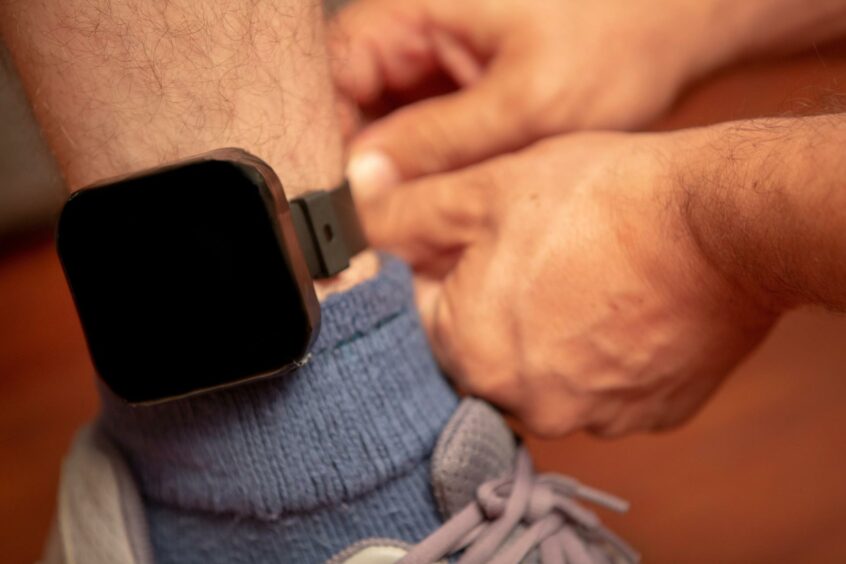 The court heard that a short time later, Stewart "stepped towards her and with both hands and pushed her stomach.
"This caused her to fall backwards onto the bed."
Mr Kermode said: "The complainer was shocked by this, because she was pregnant."
She told Stewart: "You've hurt my stomach."
Stewart replied: "You shouldn't make me angry then."
Non-harassment order
The girlfriend phoned police again and officers arrived five minutes later.
Stewart told them: "I pushed her because she said she was going to turn off my tag box."
An ambulance was called and Stewart's partner was taken to Ninewells.
Mr Kermode said there was no harm to the girlfriend.
Stewart, of Stormont Street, Perth, admitted assaulting his partner at his home on March 17, this year.
Solicitor Paul Ralph, defending, said ex-slaughterhouse worker Stewart was now trying to get gainful employment.
The court heard that the partner was in favour of a non-harassment order.
In October last year, he was placed on a six-month Restriction of Liberty order for the knife and racial abuse offence.
He was also ordered to pay £1,000 in compensation to the police officer.
Sheriff Francis Gill deferred sentence until May 13.