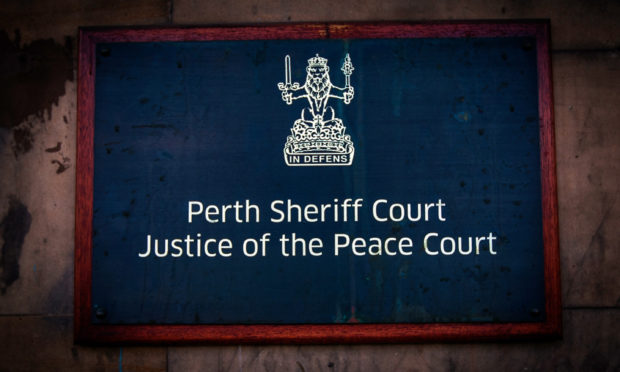 A former senior manager at Pitlochry Festival Theatre who covertly filmed women at the venue has escaped with a fine after a court accepted his illicit activities were not sexually motivated.
In an effort to avoid being placed on the sex offenders register, Derek Allan outed himself to his family and the wider public as a secret cross-dresser with long-standing  gender issues.
He claimed he had simply wanted to record and then recreate his victims' fashion styles in the privacy of his home and was guilty of misguided behaviour, but nothing more sinister.
That was accepted during a final appearance at Perth Sheriff Court, where a sheriff restricted the 60-year-old's punishment to a £1,500 fine.
Allan had been a respected member of the Highland Perthshire community before his offences came to light after a police probe.
He was commercial director of Pitlochry Festival Theatre, having been employed in senior management positions there since 2004.
And he was also creative director of the award-winning Enchanted Forest event before becoming embroiled in scandal. A spokesperson for the Enchanted Forest said Allan had resigned from the event several weeks ago.
The seeds of his downfall were sown at the theatre on October 31, 2014, when he was caught out pretending to send text messages, camera held to his chest.
All the while he was actually filming the waist and legs of women in public areas of the theatre.
The incident sparked a major internal investigation and eventually saw other women come forward to raise concerns about his conduct and detail earlier filming incidents.
His employment was terminated following a disciplinary hearing and Allan, of Lettoch Terrace in Pitlochry, subsequently pleaded guilty to committing a breach of the peace and covertly filming women at Pitlochry Festival Theatre between March 2014 and October 2015.
Speaking on Allan's behalf at Perth, solicitor advocate Andrew Houston said that while his client's behaviour was clearly "out of the ordinary" and both "misguided and inconsiderate" it "had been designed to cause any upset".
"Nonetheless, this was clearly behaviour capable of causing alarm and indeed it did cause alarm," the agent said.
"There is now a greater awareness on the part of Mr Allan of the impact of his conduct on others.
"He can understand that the covert nature of his behaviour – though not so covert that it escaped notice – was enough to make people suspect there was more sinister reasons behind it but here was no sexual aspect to this offence.
Mr Houston added: "Two-and-a-half years have elapsed since these events.
"It is almost two-years since he was interviewed by the police and had his house searched.
"The costs to him in terms of reputational damage and loss of earnings have been considerable, leaving aside the anxiety and upset to his family over the past two-and-a-half years.
"This whole episode has caused tremendous angst but there may, however, be said to be positive consequences as this has allowed him to open up to his family about his struggle.
"It has been the cause of his unburdening himself of the secret he has held onto and he has taken positive steps in terms of counselling in order to discuss his gender identity issues.
The court heard Allan's wife and daughter, along with other family members, had written and spoken "in moving and compelling terms" to the court about him.
Sentencing Allan, Sheriff Lindsay Foulis said he did not consider Allan's actions to constitute a sexual offence.
Nonetheless, he told him his offences would have had a dramatic impact upon the women he had covertly filmed.
"It has to be recognised that your behaviour would have cost the complainers considerable unease and anxiety, no matter the reasons for your behaviour," he said.
The sheriff ordered Allan to pay the fine imposed at a rate of £150 a month in light of his reduced financial circumstances.