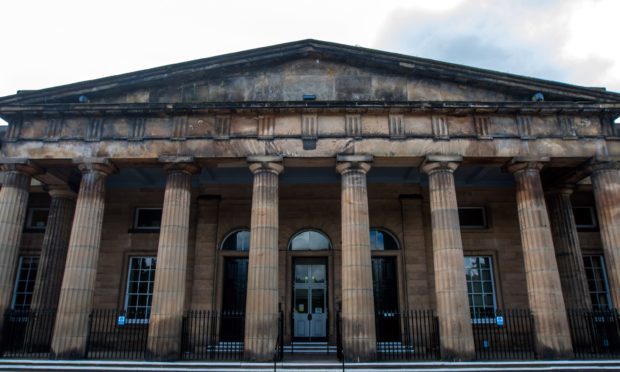 A man accused of abduction and assault to the danger of life "bombarded" a woman with texts and left her feeling scared, a court has heard.
Ellie Roy, 26, c/o Police Scotland, was giving evidence at the trial of Jamie Doak, 41, of Ruthven Street, Auchterarder.
Miss Roy told Perth Sheriff Court that she met Doak at an event at Perth Racecourse in June 2014, how he travelled to her home on another day and how they then met by chance in Edinburgh.
However, she said she "didn't like" the businessman after talking to him in Edinburgh and told depute fiscal Isma Mukhtar she found the number of text messages later sent by Doak as being "not normal."
"I was on my way to a barbecue when I received a phone call from him (Doak)," she said.
"He asked me if I wanted to meet for a coffee but I told him I wasn't interested. But he didn't take no for an answer and I found that very odd.
"He said he thought we should meet up and talk about things."
Miss Roy told the court Doak then "bombarded" her with text messages, with one containing lyrics from a song.
"His messages came through every five minutes one day, and they turned nasty and inappropriate," she added.
"I went to a pub following the barbecue and he was there and tried to catch my attention. He was really drunk and kept trying to pull me over to him – it was quite scary.
"I told him I didn't want to speak to him."
The hairdresser also told the court how she saw Doak near the salon she worked at in Gleneagles Hotel, sometimes drinking coffee, other times drinking beer.
Miss Roy said Doak threatened to tell her father that she was a "bitch" on one occasion by text.
Doak denies all the charges against him, which include one that he prodded, kicked, slapped and punched Julie Mailer. A separate charge alleges that he kicked the windscreen of a car – driven by Joanna Chac – which was travelling at 70mph on a motorway and held up a child, unrestrained, in the vehicle.
He is also accused of seizing Ms Chac by the neck, lifting her off her feet and restricting her breathing – to the danger of her life – at an address in Blackford.
Doak also denies a separate charge that he abducted Ms Chac at an address in Crieff.
In addition, Doak denies repeatedly phoning another ex-partner, Joanna Perrett, to establish her whereabouts and movements and instructing her where she could and could not go.
The charges are said to have taken place between 2000 and 2014.
The trial, which is being heard before a jury and Sheriff Christopher Shead, continues.