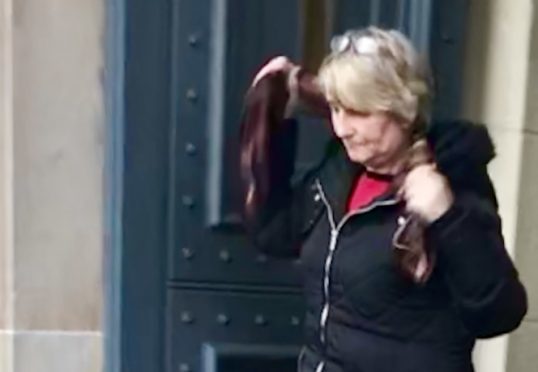 A Dundee woman who formed an "intellectually" fraudulent scheme to get £15,000 from her employers has narrowly avoided jail.
Jacqueline Mulligan, 55, created fake loan agreements with people unaware their names were being used as part of a scheme to give access to cash to others with bad credit ratings.
First time offender Mulligan was discovered after irregularities with the number of loans she was offering were noticed by her supervisors.
She worked for Shopachek Financial Services, who provided short term small cash loans which allowed people to pay back week-to-week from their own homes.
Mulligan would visit her clients at home and collect repayments, making a small commission from each payment she collected.
Depute fiscal Marie Irvine told Dundee Sheriff Court Mulligan's bosses noted there were a high number of loans being issued by her, as well as a high number of loans being taken out by the same customers.
The court heard Mulligan was using names and addresses of people she knew to approve loans for new customers who would not normally be approved.
Defence solicitor Ross Bennett said Mulligan made little financial gain from her fraud, as the commission she received from each loan repayment was small.
He said; "Ms Mulligan was one of Shopacheck's best agents.
"Her long term partner recently passed away and she looks after his child. She has a work ethic, currently working three jobs.
"She has a lack of previous convictions, is a single parent and the benefits she had from the fraud is negligible."
Sheriff John Rafferty said: "This was an offence you committed over a substantial period of time.
"You had the opportunity at any point over the course of your employment withdraw yourself. It was an activity which involved an intellectual capability on your part.
"You gained significantly from this fraud and it is in my view that makes it one of the more serious frauds.
"The High Court has made it clear that for a fraud of this type a custodial sentence should be given unless there are circumstances why.
"With some hesitation, there are circumstances which can help avoid a custodial sentence.
"You are someone who works hard and has contributed to society. You also look after your daughter on your own, having recently lost your partner.
"Had you allowed this matter to proceed to trial then custody would have been the outcome."
Mulligan, of Turrif Place, pleaded guilty to carrying out credit searches on known customers and fictitious customers, obtaining unsolicited loans in the names of these customers and being instrumental in the forgery of their signatures on corresponding loan agreements, presenting and cashing cheques issued for loans and appropriating £15,000 by fraud between November 30 2012 and March 8 2014.
Sheriff Rafferty sentenced her to 200 hours of unpaid work to be completed in 10 months, as a direct alternative to custody.