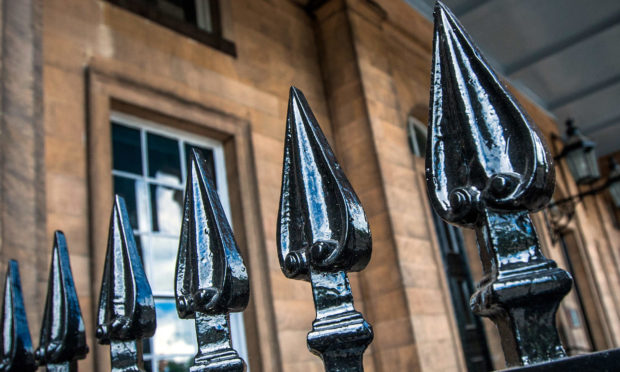 An unfinished pudding sparked a pitched brawl in the heated conditions of a Perth hotel kitchen.
Fiery head chef Andrew Duncan responded to criticism from one of his subordinates by launching a brutal assault upon him.
The 37-year-old – who was sacked after the attack – snapped after hearing his chef-de-partie criticise preparation for the day's busy service.
Perth Sheriff Court heard "a particular dessert had not been readied" and staff had raised concerns it might have to be removed from the menu.
Duncan's response was to question his chef's "attitude" and then rain blows upon his head and body.
Horrified colleagues intervened and pulled Duncan off his victim.
They fled to a nearby staff room and tore off their chef's whites with the intention of leaving, only for Duncan to follow, taunting the man.
Duncan then resumed his attack, punching his victim to the ground and causing him to strike his head on the side of a toilet.
The court was told the pair had been friends and colleagues for many years, at multiple establishments across Perthshire.
There had been fallings-out in the past due to the "high pressure environment" in which they worked but their relationship had never descended into violence.
After the initial attack, during which Duncan punched his victim repeatedly in the back of the head as he straddled him on the floor, the assault entered a second phase.
Depute fiscal Bill Kermode said: "The complainer left the kitchen and went to the staff room with the intention of leaving.
"Mr Duncan stood laughing as the victim took off his work clothes and laughed again as he was warned the matter would be reported to the police.
"The accused then punched him again on the body, causing him to fall and trike his head on a toilet, and then resumed punching him.
"The complainer shielded his body and did not fight back. Colleagues once again intervened."
Mr Kermode said Duncan's victim had sustained a variety of largely superficial wounds including scratches to his face, bruising to his face and body, a cut lip and a large bump behind one ear.
Duncan, of Potterhill Gardens in Perth, admitted the September 3 assault.
The court was told he had lost his employment at the Queen's Hotel as a result of the incident and was now working as a chef at a pub in east Perthshire.
Sherif Lindsay Foulis told Duncan he had come perilously close to being imprisoned as he imposed a community payback order to an alternative.
He said: "This incident was pretty much unprovoked and there was not just one attack, but two. If you strike someone and they fall over the consequences can be very serious, whether you intend them or not.
"In addition, you have two previous convictions for violence, albeit the last was around 10 years ago. This is a marker for you. Any more behaviour like this and there is a very strong possibility you will lose your liberty".
He ordered Duncan to carry out 240 hours of unpaid work and fined him £500.