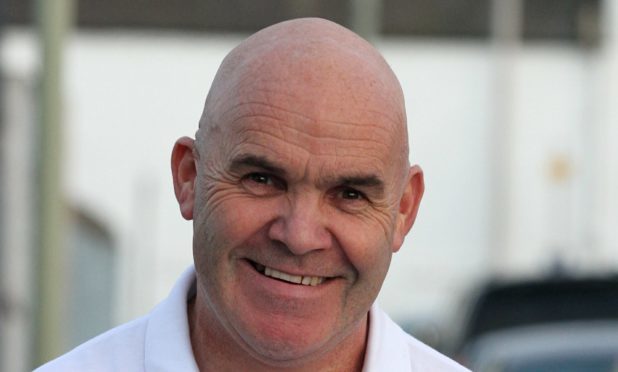 A former Dundee citizen of the year has been convicted of behaving in a an abusive manner towards his ex-partner.
Local roofing business owner and charity stalwart Charlie Kean cut his neck with a knife and threatened to commit suicide in front of her and a child.
He was also found guilty of breaking a child's mobile phone after an argument at a city restaurant. Kean was fined a total of £500 for the two offences.
The 55-year-old was found not guilty of a further three charges, including one of assaulting a child by pushing her against a wall and another of dangling a puppy out of a window.
He had claimed that he had been the victim of "lies" by his former partner Deborah Bruce and the child, describing them as "drama queens".
Sheriff Rafferty acknowledged the extensive community work that Kean has done through his charity Kean's Children's Fund and that his actions had been "out of character".
However, he added that even otherwise law-abiding citizens needed to "keep a check on their emotions".
The court heard that some time between January 1 and February 28, 2017, there had been an argument between Kean and Ms Bruce at the home they shared on the Esplanade, Broughty Ferry, after the former visited dating website Match.com.
When Ms Bruce said she was leaving the relationship after the discovery, Kean took a Stanley knife out of his pocket and made a surface wound on his neck, stating that he was going to kill himself, the court was told.
In a police interview Kean dismissed the accusation as "a load of lies" and said he had only been on Match.com to "annoy" Ms Bruce as she had previously visited the site herself, telling him that "many men wanted to have sex with her".
A few months later, on May 3, the couple went to the Weaver's Mill for a friend's birthday party, where another argument ensued after Kean said he was feeling unwell and wanted to go home early.
He threw his car keys in the direction of Ms Bruce after she accused him of "ruining the night", at which point a child began to film the commotion on her mobile phone.
Kean told police that the girl had previously put "doctored" images of people on Facebook to "humiliate" them and he was worried she would do the same to him.
Physical contact was made when he retrieved the device the child was holding behind her back, however, Sheriff Rafferty ruled that it did not amount to assault as there was "no evil intent" towards the girl.
Kean then smashed the phone and said "you won't be filming anyone again", the court heard.
Yet another argument flared up on the following day, May 4, when Ms Bruce said she was going out for tea with the child and that Kean wasn't invited.
He told police he had been holding two puppies to stop them escaping from an open door in his home during the ruckus, but that the allegation about dangling an animal out of the window was "total nonsense".
Sheriff Rafferty said: "I found Deborah Bruce to be a credible witness and I don't think she holds any ill will towards the accused.
"He has made significant contributions for the benefit of others and the behaviour was out of character, but even law abiding citizens need to keep a check on their emotions."