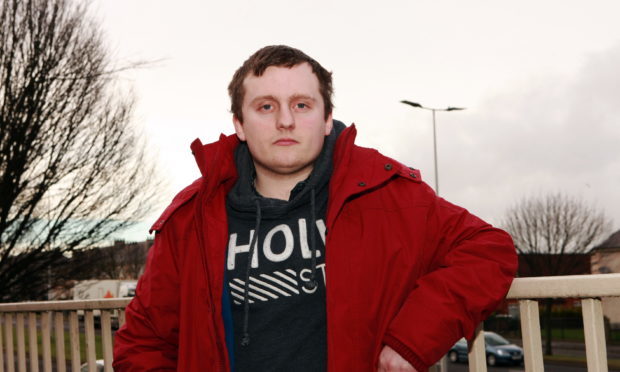 A blackmailer who trawled the internet for victims has revealed he will be freed from jail less than 14 months into a five-year extended prison sentence.
Reece Scobie said he would be released from Perth Prison on September 13 despite only being sentenced on July 27.
Scobie, 24, blackmailed his victims by threatening to publish naked pictures of them on social media sites.
The revelations about his early release came when he appeared at Perth Sheriff Court to prepare a challenge to his post-release social work monitored restrictions.
Scobie said: "The 13th of September is my release date.
"I'd like a hearing around August as 40 working days is what the social worker advised me they are going to take to provide the documents I've asked for."
Last July, Sheriff Lindsay Foulis heard Scobie was a "borderline genius" who could have gone to university, and called his case "somewhat tragic and a waste of ability".
He told Scobie he would spend three years behind bars, and a further two-year extended sentence was imposed to protect the public from serious harm.
Scobie was also placed on the sex offenders register and made the subject of a highly restrictive sexual offences prevention order.
Among the restrictions is a ban on using social media like Facebook without special police approval.
He was already on the sex offenders register when he lured his victims –including a 15-year-old boy – into sending naked pictures to him.
When they tried to break off contact with Scobie he threatened to hack Google and Facebook and find all the images of their faces which were present online.
Scobie told victims: "I'm going to send them individually to each and every one of your friends.
"I'm going to send them to your work and put them all over my Facebook.
"I will drive your life into the ground. This is a promise I intend to keep. I will also send your photos to your uni."
Between March 1 and April 30, he admitted causing a 15-year-old child to participate in sexual activity by inducing him to create sexual images and send them to Scobie.
He admitted two further charges relating to the schoolboy including menacing him and trying to extort further images from him by threatening to publish his naked pictures online.
Scobie, Flower of Monorgan Close, Inchture, also admitted breaching bail by deleting the browser history on his mobile phone.
Scobie, who has used stolen credit card details to travel the world, was jailed in Iceland after being found with child abuse images and videos on an illicit trip to Seattle in the United States.
In 2013 Scobie, who was just 19, was detained for 16 months after he admitted carrying out a massive con to fund his "fantasy" globetrotting lifestyle.
He was compared to Catch Me If You Can fraudster Frank Abagnale in the wake of a global travel con funded by £70,000 he duped from travel agents.
Scobie booked as many as 30 hotel rooms and at least five luxury holidays across the world, each costing between £5,000 and £10,000.