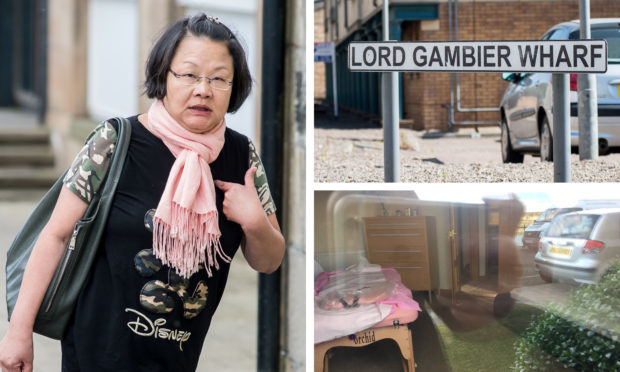 A woman who was convicted of running a brothel from a luxury flat in Fife has avoided a jail sentence.
Chin Chih Chang, 53, had maintained that several Asian women who worked for her at the property in Lord Gambier Wharf, Kirkcaldy, between April 2016 and May 2017 were professional masseuses she personally trained.
However, she was found guilty following a trial at Kirkcaldy Sheriff Court of operating a sordid sex-for-sale business after a series of men revealed how they were given "extras" by the ladies in her employ.
The brothel madam, who now lives in Eaton Road in Hove, Sussex, was also convicted of transferring almost £30,000 of criminal property to individuals outside of Scotland – namely to her native Taiwan.
Nevertheless, Sheriff Jamie Gilchrist stopped short of imposing a jail term at Kirkcaldy Sheriff Court today, instead ordering her to carry out 300 hours of unpaid work.
Chang will also be subject to a restriction of liberty order at her home address in England for 12 months between 8pm and 6am.
Police swooped after neighbours described seeing men "of all ages" arriving at the sought-after waterfront flat, and the makeshift brothel was raided on May 31 last year.
One client, Alasdair McIntosh, 56, told the court how he was surprised to get what he called a "Brucie bonus" from an Asian woman, having claimed he had only gone there for a £100 massage for a sore back.
Chang had claimed it would have been "impossible" for her to run the brothel in Kirkcaldy, but a jury took less than an hour to find her guilty earlier this year.
A neighbour, Barry Livingstone, told the trial that he was curious about what was happening inside the privately-rented flat as a string of men visited, so he searched on the internet for "massage in Kirkcaldy" and came across adverts placed by Chang under her alias name of Sophia.
The adverts offered "professional massage" but several witnesses told the trial they were offered sexual services by Chang and the girls who worked from the property.
Another witness, James Saunders, told the jury he had started using the services at Lord Gambier Wharf but began receiving visits to his home during the winter months.
He told how the cash – between £80 and £110 – was always handed to "the boss lady" by either himself or the young Asian girl who was giving him "the full service".
Jurors also heard from police officers who were first on the scene during the raid on May 31 and told how Chang had tried to raise the alarm with a young girl as she was in a room with client Mr McIntosh.
He admitted visiting the parlour "three or four times" and would pay for an hour-long massage which included an "unexpected bonus".
The court heard how on that day Chang started the massage and, after a couple of minutes, a younger girl came in and took over.
"She told me to lie down on a mattress in the room," Mr McIntosh said.
"She lay down on the mattress beside me and told me to say that we were friends."
Four mobile phones, including one using a number that was registered on Gumtree, were found as the property was searched, alongside lubricant and a Moneygram receipt for £600.
A handwritten Chinese to English phrase book was also discovered. It included lines such as: "No money, no touch, just watch."
Defence solicitor David Bell said his client was in the country on a spouse visa, although her case was now under review by the Home Office.
"The conviction will no doubt feature in discussions made about her longer-term future in the UK," he noted.
Mr Bell said Chang suffered from anxiety and depression and that her family had a history of mental health problems, revealing four members of her family – including her mother – had taken their own lives.
However, he acknowledged that his plea in migration was somewhat hamstrung by his client's "continual denial" of the offences.
Sheriff Gilchrist replied that he did not get "particularly aerated" by Chang's protested innocence, but later said a community payback order would be more "constructive" than custody.
A confiscation order by the Crown, which will attempt to seize her ill-gotten gains, will be considered in six weeks time.