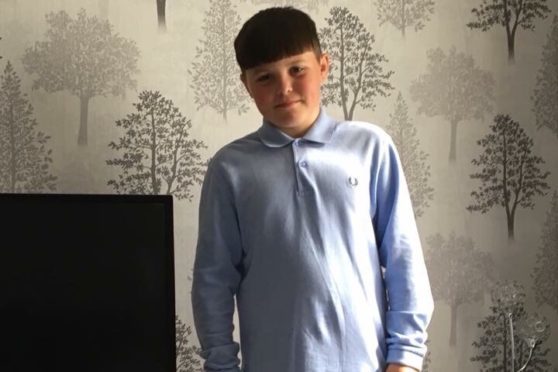 The mother of a seriously ill Dundee boy has hit out at a drug addict's sentence after he avoided jail despite stealing a charity box containing money for the child.
Christopher Tennant admitted taking the box, containing £40, from the Premier shop on Perth Road on August 5, as well as behaving in a threatening and abusive manner on August 11 at the same store.
He was given a deferred sentence to allow him to attend a drug rehabilitation programme and is likely to be spared a stay in prison if he is of good behaviour.
The box contained money for 11-year-old Kaydn Buchan, who is awaiting treatment for serious heart problems – dilated cardiomyopathy and arrhythmia – which have left him unable to get through a whole day at school or take part in PE lessons.
Mum Hayley Buchan, 34, said it was an "absolute joke" that Tennant has walked free after his appearance at Dundee Sheriff Court on Monday.
She added: "I'm disappointed at the lenient sentence. My son is ill through no fault of his own and people were raising money for a 'comfort fund' for him.
"It has been tough for us financially as he became unwell on holiday in Alicante and had to spend four weeks in hospital there, while my other son, who is 17, had to look after the house in Dundee.
"We also now have to go back and forth to Glasgow, where they're trying to find out exactly what's causing his problems and what treatment they're going to give him.
"Our family and friends have raised £5,000 which will go a long way to helping us. I know the guy only stole £40 but that's not the point, it's the principle.
"Kaydn is also very disappointed."
The court heard that Tennant, 38, was begging outside the shop and after going inside, snapped the rope connecting the charity box to the counter.
His defence solicitor, Carolyn Lockie, said  her client had had difficulty obtaining benefits as he didn't have ID or proof of address.
She added that Tennant, who has previous convictions, has issues with heroin and alcohol dependency, but is currently trying to tackle those as part of a Community Payback Order.
Ms Lockie said: "He is due to be admitted to residential rehabilitation programme in August.
"A custodial sentence would prevent him taking part in that."
Sheriff Carmichael deferred sentence until September 28 and warned Tennant to be of good behaviour.