A Kirkcaldy man caught sending disgusting messages to what he thought was a 12-year-old girl has been placed on the sex offenders register.
William Scott appeared at Kirkcaldy Sheriff Court where he pled guilty to sending the inappropriate communications between January 12 and 20 this year.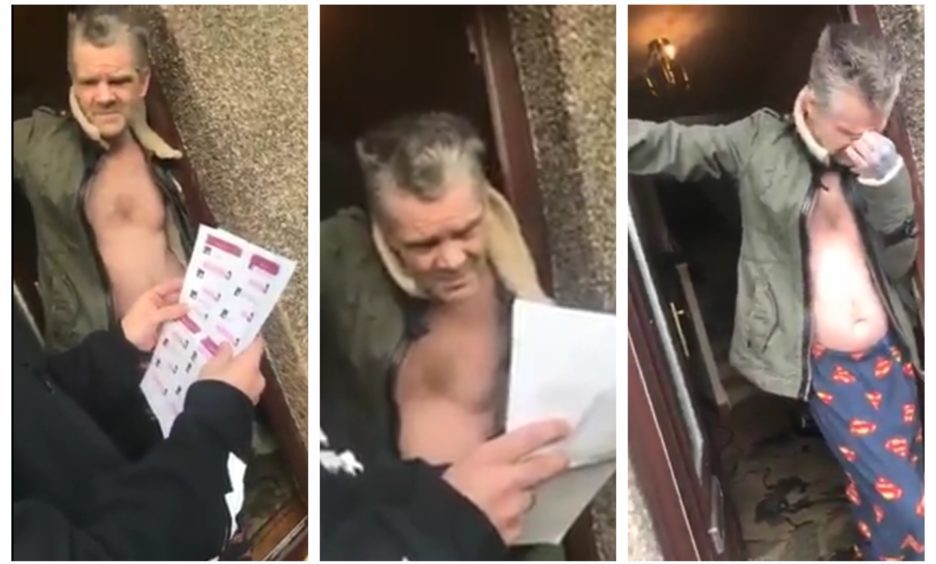 Billy Scott is confronted by the group at his home in Kirkcaldy.The 45-year-old made contact with a profile on the Waplog website which had been set up by a member of the paedophile hunter group Groom Resisters Scotland.
Despite being told the profile user was a 12-year-old from Manchester, Scott began sending a series of disturbing messages and pictures.
He was later confronted by the group at his former home in Cumbrae Terrace, Kirkcaldy and was subsequently arrested by the police.
Fiscal depute Jade Doig told the court: "A paedophile hunter group created a decoy profile pretending to be a 12-year-old girl.
"On January 12 2018, the accused contacted the decoy and said 'hello there sexy'. The decoy replied 'Hi I'm Lauren. I live in Manchester. I'm 12 wbu?'.
"Despite clearly stating her age, the accused continued to engage and send messages of sexual nature, asking about her underwear. He also asked the decoy if she would engage in sexual acts."
She added Scott had sent a picture of male genitalia prompting the hunter group to confront him.
He was shown screenshots of the inappropriate messages and the police were called.
When questioned about his actions, Scott replied: "I was talking to a 12-year-old girl. I have been sending her pictures…. I found on the internet. They said I was grooming her and from what they showed me, it does look that way."
The pervert was then taken to Kirkcaldy police station where he made a full confession.
Defence solicitor Martin McGuire told the court his client was "very much aware of the final disposal and is not seeking to persuade the court that there's an alternative to custody".
He added that Scott had been "somewhat depressed and isolated" before going online to speak to strangers for "sexual gratification".
Mr McGuire said that his client was pleading guilty to the two charges of sending inappropriate sexual communications to an adult whom he believed was a child.
Sheriff Jamie Gilchrist QC deferred sentence for background reports and a risk assessment. He was placed on the sex offenders register and will return for sentencing on September 20.
Scott is the latest offender to be snared by a so-called paedophile hunter group in Fife.
The Courier told this week how George Fraser from Glenrothes was caught sending messages to a sting account set up by the Innocence Keepers group and placed on the sex offenders register when he appeared at Kirkcaldy Sheriff Court.
Earlier in the month, a group calling itself Wolf Hunters descended on Forfar from the west coast to confront a suspected paedophile and were escorted from the town by police.
A man was later arrested.