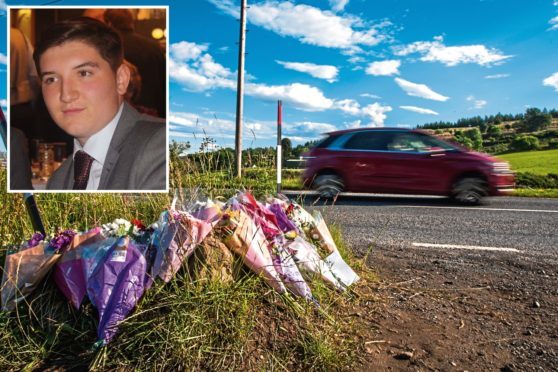 A teenager who caused the death of his best friend in a car crash just weeks after passing his driving test has avoided jail.
The accident was blamed on the "inexperience" of driver Bradley Wallace, 19, who lost control of his car on a bend on the A923 at Coupar Angus, causing it to roll five times, as he and a group of friends returned from a late-night cinema trip to Dundee.
Front-seat passenger Billy Haggart, 18, sustained devastating head injuries in the crash last July and was pronounced dead in hospital a short time later.
The victim's family have forgiven Wallace for the crash and are said to remain close to him.
At Perth Sheriff Court yesterday, Wallace, of Glendevon Court, Rattray, was given 170 hours of community service and banned from driving for two and a half years.
Defence solicitor Mike Tavendale told the court Wallace had just turned 18 at the time of the accident and had only been driving for two months. It was only the second time he had driven the Ford Fiesta.
He said: "Expert analysis said there was a loss of control as a result of a mistake through inexperience rather than aggressive mishandling of the vehicle.
"He (Wallace) has been deeply affected by the accident and the loss of his best friend. He is still very close to the deceased's family and he very much values the support of the deceased's parents.
"He accepts that the consequences for him pale into insignificance compared to the loss that they have suffered. This is something he will have to live with for the rest of his life.
"It was a tragic accident."
At a previous hearing, Wallace admitted causing the death of his friend by driving carelessly and at excessive speed on the A923 at Coupar Angus on July 22, 2017 and driving without insurance.
During sentencing, Sheriff William Wood said he hopes Wallace goes on to live a "full life".
"The consequences of these offences are quite tragic," he said.
"It seems to me that, if anything, this is an example of inexperience causing a fatal accident.
"His parents have expressed concern and support for you which is unspeakably generous. They could have reacted in a very different way.
"I'm sure this has had a profound impact on you. It is to be hoped that this impact does not define you as a person. You are a young man who has never been in trouble before and you have a future.
"You should go on to have a full life."