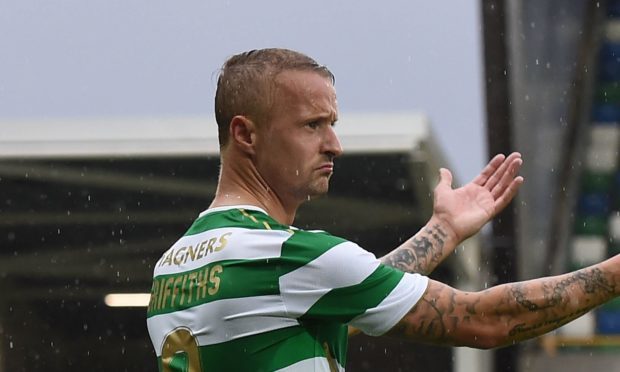 A court has called full time on Celtic striker Leigh Griffiths' speeding trial an hour early – so the Hoops star can get to their crucial Europa League qualifier on time.
The Scotland forward appeared at Dundee Justice of the Peace Court for the second day of his trial on Thursday.
He denies driving his four-litre, 469-horespower Mercedes AMG C63 at 62mph on Dundee's Kingsway on June 3 last year.
But time was called on the evidence at 3pm – an hour earlier than the usual finishing time – after the court was told Griffiths was required to meet up with his colleagues at the team hotel well ahead of the 8pm kick off against Lithuanian side FC Suduva.
As he left the dock JP Derek Cochrane told Griffiths: "I hope tonight goes the way you want it."
Earlier Griffiths smiled and waved at fans chanting at him during the court's lunch break.
The court heard the end of seven hours of tedious technical testimony from police safety camera officer Scott Aitken about the calibration of the speed gun equipment used in the van he was operating.
Mr Aitken said he spotted the Merc speeding past other traffic on the westbound Kingsway road at about 2.21pm on June 3 last year – just days before Griffiths' famous free-kick double against England at Hampden.
Asked by fiscal depute Alan Kempton if he was operating the camera equipment properly, he replied: "Yes."
Mr Kempton asked: "As far as you were concerned it was calibrated properly?"
Mr Aitken: "Yes."
He added: "It came round the corner and caught up with the vehicle in front of it quite quickly.
"It was quite obvious he was going above the speed limit."
PC Graeme Wallace also told the court he had certified paperwork showing that the documentation relating to equipment used to catch Griffiths was in date.
Asking for the case to be adjourned early, defence solicitor Robert Sheridan said: "It's regrettable that I would seek to adjourn at this stage due to his commitments."
JP Derek Cochrane continued the trial to a third day on September 20 and said: "I hope tonight goes the way you want it."
The charge against Griffiths alleges that on June 3 2017 at Kingsway West, Dundee, near the Myrekirk roundabout, Griffiths drove at 62mph in a 50mph zone.