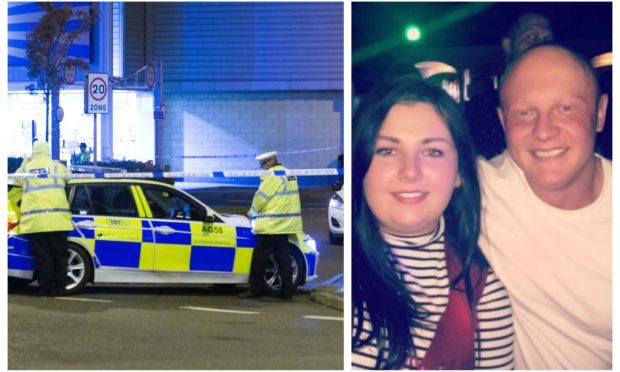 A woman who lied by claiming that she was the driver of a car that killed a pensioner when her boyfriend was behind the wheel was spared a prison sentence on Wednesday.
Tiegan Carruthers' speeding partner, Gregg Anderson, who was driving the vehicle without a licence or insurance when it struck the victim as she crossed the road, was jailed for six years.
Carruthers, 20, was seen after the crash that killed pedestrian Linda Dunn, 68, at Riverside Retail Park screaming and crying and saying she was "going to jail".
A judge told Anderson, 27, at the High Court in Edinburgh: "It was clear you thought you could behave as you liked ignoring the road traffic laws."
Lord Uist said that Anderson had knocked down and killed an innocent pedestrian and CCTV footage earlier played to the court showed his "arrogant attitude of indifference" to road traffic legislation.
The judge ordered that he should be banned from driving for seven and a half years and resit a test. The disqualification will start in three years time.
Lord Uist told Carruthers: "My initial inclination had been to impose a significant period of detention."
Couple lied to police after woman was struck by car and died at Fife retail park
But he said that because of her age, lack of previous offending and background information supplied to him he would impose a community payback order.
Carruthers will be under supervision for two years and have to carry out 225 hours of unpaid work.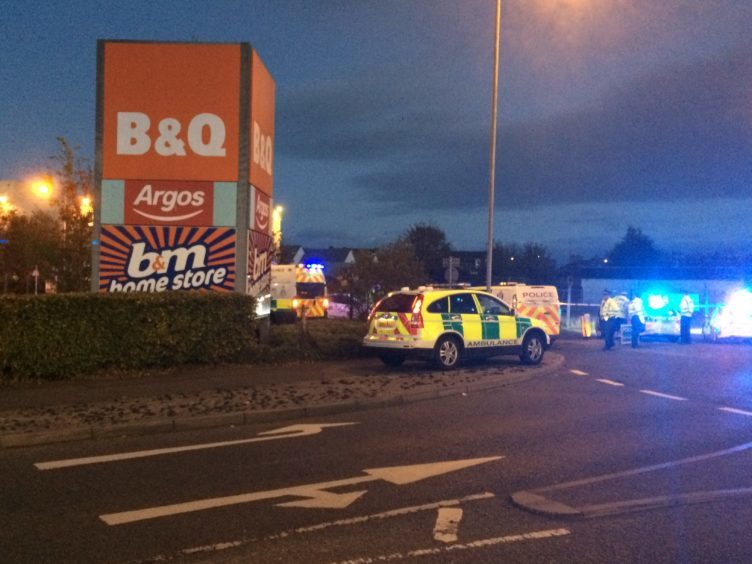 Dental nurse Carruthers had initially told police she was driving in blinding sunlight and said: "I couldn't see anything. Then she hit off the bonnet first, then the windscreen, then off.
"I went into shock and my partner grabbed the wheel and pulled the car to the side."
She later maintained the pretence to insurers that she was the driver and got a courtesy car after telling them: "The police have already told me it's not my fault and there's nothing for me to worry about but I'm not going to get charged with anything against me.
"It's a complete accident and the lady walked out in front of me."
Her partner Anderson, who was driving at nearly double the speed limit of 20 mph, told police: "Tiegan was driving slowly perhaps at 20 mph or less because the sun was very low and dazzling."
He said that after the collision she could not open her door so he climbed over and opened it and got out "her side".
The court heard that when police began examining CCTV from the town centre of Leven, in Fife, following the fatal collision on October 29 last year they realised that Anderson had been driving the Mazda car.
Police made a press appeal for witnesses and members of the public came forward and gave information that a male was the driver with a female passenger.
Warehouseman Anderson was interviewed again by police and accepted that he drove part of the car journey that day but persisted that he was not the driver at the time of the collision.
His girlfriend was also questioned and initially claimed that she was the driver but after she was presented with contradictory evidence said Anderson was driving.
Advocate depute Alex Prentice QC told the court: "The truth being that the accused Carruthers permitted Anderson to drive without a licence or insurance, that she repeatedly gave the police false information and deceived Direct Line into providing her with a courtesy car.
"The accused Anderson drove the car dangerously at the materiel time without a licence or insurance and he repeatedly provided false information to the police regarding his role in the matter."
Gregg, of Alexander Street, East Wemyss, in Fife, earlier admitted causing the death of Miss Dunn by driving dangerously at excessive speed and failing to observe the pedestrian crossing Aitken Street, in Leven, in Fife.
Prior to the fatal collision he had ignored 'no entry' signs and drove the wrong way in a pedestrian area. He also admitted driving without insurance and a licence.
He further pled guilty to attempting to defeat the ends of justice by providing false information to police stating Carruthers was the driver in a bid to avoid detection and prosecution.
Carruthers, also of Alexander Street, East Wemyss, admitted permitting Carruthers to drive without him having appropriate insurance.
She also admitted pretending to Direct Line Insurance that she was the driver at the time of the fatal collision and inducing the firm to provide her with a courtesy car and obtaining the use of it by fraud and attempting to pervert the course of justice by claiming to have been the driver.
Mr Prentice said Miss Dunn had never married nor had children and lived alone at Kinnarchie Crescent, Methil, but kept good health and was well loved by her wider family and close friends.
A family friend said: "Linda's sudden, tragic and needless death has shocked and traumatized the family, friends and neighbours who loved her.
"She had no companion or children, but her rich life was full of friends and family spread around the world."
Miss Dunn, who was thrown 6ft into the air during the crash, died from head and chest injuries sustained in the collision.
The court heard that Anderson had previously served a one-year driving ban and been fined for careless driving and refusing to take a breath test and his licence had expired.
He had not applied to have it reinstated and because he was convicted of an alcohol related offence the DVLA would have carried out an investigation to decide if a licence request should be granted.
Defence counsel Tony Lenehan, for Carruthers, said: "Her sense of free will and independent mind has never been strong and as it was even that had been carved away by the nature of her relationship with the co-accused."
He added: "Whatever happens today, she will have, what is to my mind, the advantage of a forced separation from Anderson."