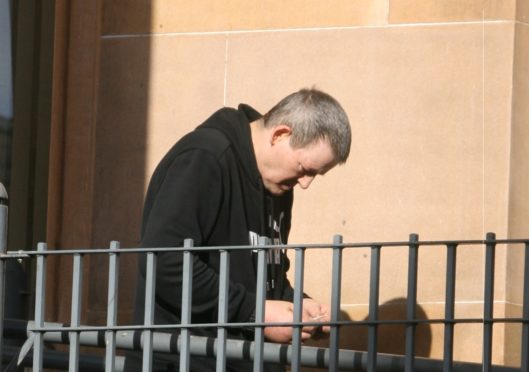 A drug dealer whose forgotten stash sat hidden in a dry stone dyke "for years" until it was accidentally found by enthusiasts playing a worldwide online game has been jailed for three years.
A pair of Geocaching enthusiasts were hunting "treasures" hidden on a rarely used rural road in Angus using GPS technology when they found a black rucksack stuffed inside a wall.
Thinking it was the object they had been hunting in the game – in which players around the world use GPS co-ordinates to hunt "caches" hidden and logged online – they opened it up.
But instead of finding the usual notebook and pen to record their find and a trinket often hidden in the cache they found £24,000 worth of heroin.
They took the bag to Broughty Ferry police station later in the day, where forensic analysis linked DNA found on the knotted bags of the drug to Albert Ramsay.
He was arrested and, dumbfounded, told officers he "hadn't sold heroin for years".
He was handed a three-year jail term on Monday after admitting a charge of being concerned in the supply of diamorphine.
Fiscal depute Saima Rasheed told Dundee Sheriff Court: "The exact location was within a stone dyke within a farming field.
"It is a remote location and used by occasional ramblers and dog walkers and by agricultural vehicles.
"The witnesses are geocaching enthusiasts, which is a treasure hunting game.
"Items are hidden in particular locations for users to find using co-ordinates from the internet.
"The witnesses were following co-ordinates to a cache near the locus.
"They drove and stopped when the GPS showed they were close.
"They looked near a tree and saw a black rucksack in the nearby dyke.
"They found it contained a set of digital scales and bags containing a rock like substance.
"They immediately realised they had not found the cache and thought they may be illicit drugs.
"They drove to Broughty Ferry police station and handed it in.
"There was 242.6 grams of heroin inside with a maximum value of £24,200.
"The accused's DNA was found within a knot on one of the bags.
"When he was interviewed he stated he had never been to the unregistered track where the bag was found.
"He said he had no knowledge of the contents."
Ramsay, 50, of Hilltown Court, Dundee, pleaded guilty on indictment to being concerned in the supply of diamorphine on August 27 2016 at Omachie Farm, Kingennie, Angus.
Solicitor advocate Jim Laverty, defending, said: "His recollection about it is somewhat hazy.
"There was DNA within the knotted area of two of the plastic bags. His role in the operation was perhaps at the lower end.
"But it is accepted that any person who becomes involved in the machinery of drugs supply has to accept that unless extraordinary circumstances apply they will be imprisoned."
Sheriff Lorna Drummond QC jailed Ramsay for three years – reduced from four for his early guilty plea.
She said: "This is an offence of being concerned in the supply of a class A drug which is obviously a serious offence.
"This is particularly serious because it is over £24,000 worth of heroin involved.
"In my view for a matter as serious as this for someone with a record a significant custodial sentence is inevitable."