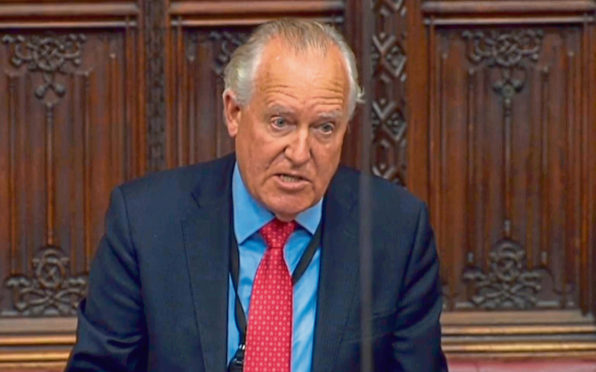 Sir, – It was most interesting to follow the recent case involving the naming of Sir Philip Green by Lord Hain, who cited parliamentary privilege to ensure his name entered the public domain.
To my mind, there are a couple of issues in this case.
Both have distorted things to their own ends.
Firstly Lord Hain has possibly abused his privileged position to undermine due judicial process, and secondly Sir Philip has abused his own position and wealth to protect himself from a possible criminal case.
Legal umbrage at Lord Hain's involvement ignores the fact that civil law is largely written by and for the wealthy to ensure they get their own way because of the feat of arms, nowadays known as a bigger bank balance.
Sometimes the law is, and can be, an ass and those who defend this without question assume the same mantle.
The use of so-called non-disclosure agreements merely to prevent embarrassment and protect privilege is wrong, and clearly indicates that there is probably a viable case that needs to be heard.
Therefore Lord Hain is right in his assertion of public interest regardless of any conflict of interest he may have.
The public do have a right to know if someone is abusing their position.
Had Sir Philip not obtained an injunction then quite possibly the whole issue may well have gone unnoticed.
Just because someone is wealthy does not mean they are imbued with commonsense, but merely used to getting their own way.
Nick Cole.
Balmacron Farmhouse,
Meigle.
Rationale was very clear
Sir, – I have to disagree on the three points your reader made recently about the production of 306 Dusk (Letters, November 2).
I was fortunate to see all three parts of the trilogy over the last three years.
Although at heart they were honouring the story of the 306 men shot at dawn in WWI, each production stood alone and you did not have to see all three parts to understand the last part.
The meaning of 306 Dusk was very clear.
The 306 men probably were all suffering from PTSD and certainly should not have been shot for cowardice.
The modern soldier depicted in the production was also suffering from PTSD.
Although this is better recognised now the message was that more should be done.
I would have thought anyone going to see the production would have been interested enough to find out why it was called 306.
This trilogy was a fitting tribute to those shot and the audiences were obviously moved by all the productions.
Christine Johnston.
8 Stanley Road,
Broughty Ferry.
A right royal waste of money
Sir, – I wonder how much it cost the British tax-payer for the recent and high-profile royal jaunt to the other side of the world.
All for a play-boy prince and a grinning duchess throwing wellies and hugging babies.
What a waste.
Alister Rankin.
93 Whyterose Terrace,
Methil.
Fatuous virtue signalling
Sir, – The migrant caravan is almost wholly made up of Hondurans.
There are around 12 million people who could claim to be of Honduran origin of which some two million already live in the US as legal/illegal immigrants.
Trump certainly faces a problem and all this European virtue signalling is fatuous.
If we care so much why don't we send over our cruise liners and naval ships, pick up two million and house them somewhere in Europe?
Rev Dr John Cameron.
10 Howard Place,
St Andrews.
Cars alone do not cause issue
Sir, – As your recent correspondent Gordon Pace (Letters, November 1) will perhaps agree, the point at issue is whether cars could usefully be banned from our cities in case their exhausts harm people's lungs.
I say it is not worth it, because of the lorries, vans and buses still on the roads, belching out more fumes.
A car-free city's businesses would suffer further, perhaps ruinous, loss of customers.
We all accept that all vehicle exhausts can damage lungs, particularly in patients already with respiratory diseases.
However, the pathogenic impact of fumes specifically from car exhausts could not be distinguished and proven.
Therefore, a ban on cars in cities would not necessarily lead to a direct improvement with regard to chest disease.
Dr Charles Wardrop.
111 Viewlands Rd West,
Perth.
Time is right for turbine ban
Sir, – There has long been anecdotal evidence of wind turbines having serious adverse effects on human health; now thanks to a team led by Professor Christian Friedrich Vahl at the medical university of Mainz in Germany, we have an explanation for this.
Professor Vahl's team have discovered that low frequency noise or infra-sound, which we cannot hear, can weaken human heart muscle by up to 20% and can also alter blood flow.
In an interview, he described the effect of infra-sound as being like a jammer for the heart.
Given that the theoretical limit for wind turbine efficiency is 41%, the majority of the energy extracted by the turbines from the wind is dissipated as infra-sound.
Worryingly, one of the characteristics of infra-sound is that it is very penetrating.
Normal walls will make essentially no difference to it.
The professor points out that to protect from infra-sound you would need a very high eight metre thick wall.
Such a wall would have to be thicker than most houses and considerably taller.
When we add the serious threat to human health to the other problems of wind turbines (expensive part-time electricity, turbine flicker, damage to the environment and, when construction is taken into account, not reducing CO2), it is clear that the time has come for a moratorium on new turbines.
Otto Inglis.
6 Inveralmond Grove,
Edinburgh.
Far too many spin doctors
Sir, – William Loneskie asks who "government spokespersons" are (Letters, October 31).
A better word would be "spin doctors" and their job is to spin away any criticism of the SNP-dominated Scottish Government and lay down smoke trails and blame everyone else.
Utterances from these "spin doctors" include "it's all Westminster's fault, Scotland has been short changed again, these are not numbers we recognise, it's a lot worse in England…".
The classic, after being criticised by Audit Scotland over the state of the NHS was that "the Audit Scotland report contains errors as it does not take into account the Scottish Government's latest plans for the NHS".
There are 46 of these spin doctors costing £5 million a year so a cull is required.
Clark Cross.
138 Springfield Road,
Linlithgow.
Criticism is wide of the mark
Sir, – Your regular correspondent Derek Farmer once again writes about a subject he appears to know little or nothing about – on this occasion it is fishing (Letters, October 26)
He states that significant powers will be devolved to the Scottish Parliament which is not quite correct as we have seen over these past few months.
In fact these fishing powers are among those being retained.
Mr Farmer then accuses foreign fishers for decimating our fishing stock by plundering our waters.
Records show that 45% of all Scottish fishing quotas are controlled by just five families, all of whom appear on the list of British millionaires.
These records also show that 13 of the top 25 quota holders were convicted of Scotland's shame – the black fishing scam – and were hit with massive fines.
For years the industry denied their guilt and is only now trying to make amends with conservation measures because fishing was faced with extinction.
Indeed were it not for the EU, it is arguable there would be no fish to catch.
Finally Mr Farmer suggests that an independent Scotland would not be granted EU membership.
A pity for your correspondent, then, that the EU has stated that Scotland would be most welcome – as Mr Barnier informed Conservative MP Ross Thomson in the House of Commons just a few months back
Stephen Windsor.
The Holdings,
Kinfauns.