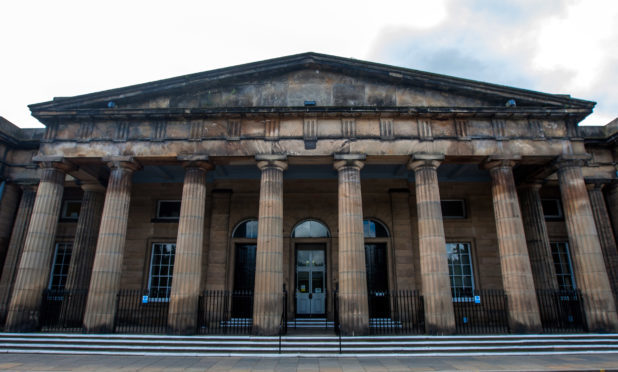 A ten-year-old boy helped carry out a terrifying armed carjacking on a windfarm worker who was sleeping in a remote layby in the dead of night.
The primary school pupil and Charles Lindsay, 19, entered the the man's car and pulled a knife out before stealing the vehicle and taking it for a joyride.
Car owner Rhys Williams, 23, who had been tired after driving from Wales to Scotland to return to work, was left at the roadside without his shoes.
Perth Sheriff Court was told he had fled from the car after seeing the knife and hearing the ten-year-old boy shout: "Get out of the car!"
Lindsay was caught after dumping the car near his mother's home and leaving his DNA on the steering wheel.
Mr Williams' stolen Armani tracksuit was found during a search of Lindsay's home.
Yesterday, motorbike mechanic Lindsay, of Logie Drive, Logiealmond, admitted assaulting and robbing Mr Williams at knifepoint on October 13 last year.
He admitted acting with another unknown male in a layby on the A926 Blairgowrie to Alyth road in Perthshire by entering the Seat Ibiza and demanding property from Mr Williams.
Lindsay admitted presenting a knife, ordering Mr Williams to leave the vehicle before driving it away and stealing the car and its contents.
Depute fiscal Laura Bruce told the court that Mr Williams was returning to work in Perthshire from his home in Wales and had decided to pull in to the layby to sleep before completing his journey.
She added: "He parked and fell asleep. He thought the car was locked but there had been a problem with the central locking system. At 4.30am a milkman saw two males walking on the road.
"One had a hood up and he could not describe them as he could not see their faces," she said.
"At 5.20 am Mr Williams was woken by tapping on the window.
"He turned and saw the accused climb into the front passenger seat. The accused said 'give me everything you've got.' Mr Williams could see a blade in his hand.
"He told the accused everything was in the boot to try and get them out of the car.
"The accused put his hand on the victim's shoulder and said 'give me your phone.'
"Mr Williams was wrapped in his duvet so he was struggling to move and he tried to start the engine.
"Another male shouted 'get out of the car' and this was a child of approximately ten years old.
"Mr Williams was extremely frightened and managed to get out and run away with his mobile phone. He saw the vehicle drive off with the two males in it."
She said: "He dialled 999 and when police arrived he was only wearing a top, trousers and socks. There was a call to say the Seat Ibiza was blocking the road 500 yards from the accused's mother's home.
"Several items were strewn across the ground including the duvet. Analysis of the DNA from the steering wheel revealed a match with the accused."
Mrs Bruce told the court when Lindsay's home was searched the Armani tracksuit was recovered and the accused offered no explanation for his DNA being in the stolen car.
Solicitor John McLaughlin, defending, said: "He is a young man who has committed a serious offence. He had been waiting to apply to join the army.
"There maybe elements in his background which indicate there may be some prospect of saving him and preventing him from acting this way again."
Sheriff Gillian Wade said: "A conviction for armed robbery is not going to assist you in joining the army. You have been convicted of a very serious offence.
"A custodial sentence is very much at the forefront of my thinking and you should prepare yourself for that eventuality."
Lindsay was granted bail and sentence was deferred for reports.