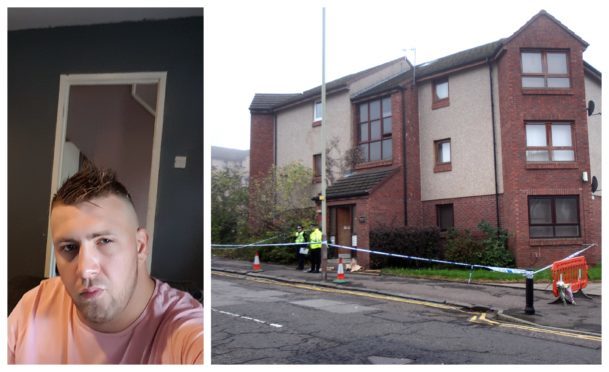 A paramedic described the bloody scene that greeted him when he arrived on the street where a man was allegedly stabbed to death after being attacked with a bow and arrow.
Gordon McLeish gave evidence at the trial of Charles Little, 32, who denies killing Gordon Diduca during an argument in the common close of Dundonald Court on September 25, 2017.
Mr McLeish arrived as other paramedics and a trauma team consultant were battling in vain to save Mr Diduca.
Taking to the witness stand at the High Court in Glasgow yesterday, Mr McLeish said: "When I arrived I saw the crew already there, performing CPR on a person.
"I took over the airway, because it was compromised by blood coming into it.
"An A&E consultant on the trauma team then took over."
A stab wound to the shoulder, which damaged crucial blood vessels leading to the heart, was cited as the cause of death.
Dr Helen Brownlow, a senior lecturer in forensic pathology at Dundee University, who prepared the post-mortem report, said this had caused an internal haemorrhage, with blood finding its way into Mr Diduca's lung.
She said he had three other stab wounds to the hip, chest and shoulder.
The paramedics also tended to Little, who had lacerations on his neck and wrist.
The wrist wound was "bleeding profusely" and was consistent with a self-inflicted injury, the court heard.
However, jurors were told it was possible that some of his other injuries could have been caused by him being struck with a piece of wood, which Mr Diduca was said to have been holding during the altercation.
After treatment at the scene, Little was handcuffed and transported to Ninewells Hospital in an ambulance, with police present.
Constable Matthew Boath said the accused had been "reserved" and "quiet" in the aftermath of the bloodbath, and did not say much other than asking for a sick bowl.
He also made some disjointed comments which were not in response to anything being said to him, the court heard.
Mr Boath said: "At the door of the ambulance he did say, in a voluntary comment, 'if I wanted to hurt him I would have'.
"In the ambulance he made two further voluntary comments – 'they have already seen my crossbow' and 'how long did it take you to deal with the situation'.
"I would say he was reserved, quite quiet, not saying much.
"There were a few occasions when he asked for a sick bowl to be provided because he was feeling nauseous."
Medics at Ninewells Hospital treated Little for his injuries and noted that he had taken amphetamine drugs, which resulted in a quickened heart rate and dilated pupils.
Meanwhile, a post-mortem on Mr Diduca revealed he had alcohol, cocaine and ecstasy in his blood at the time of death.
The court heard he a had a "history of violence and public disorder" spanning nearly a decade, including multiple convictions for assault to injury, breach of the peace, possession of a weapon and disorderly conduct.
The trial continues.