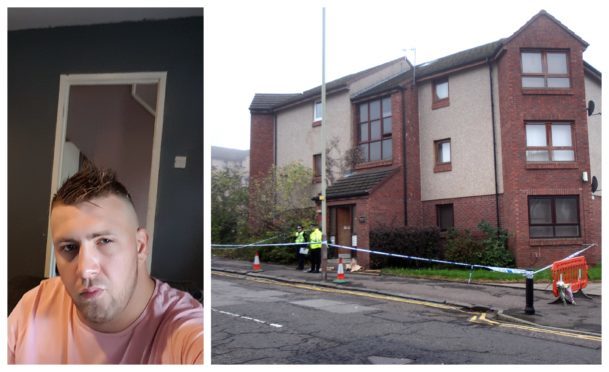 A 32-year-old man has admitted killing his neighbour in the common close of a Dundee block of flats after a drug-fuelled altercation involving a bow and arrow.
Charles Little, 32, was initially charged with the murder of Gordon Diduca but pleaded guilty to a lesser charge of culpable homicide after five days of a high court jury trial on Tuesday.
Mr Diduca died after being stabbed in the shoulder by Little, who also admitted firing an arrow at the 23-year-old labourer in the communal stairwell of Dundonald Court on September 25 2017.
The Crown accepted Little's plea, acknowledging that there had been an element of provocation since Mr Diduca and a friend had threatened the accused.
The High Court in Glasgow heard Little had a number of personality disorders, which had been exacerbated by his use of drugs at the time of the offence.
Little's solicitor, Mark Stewart QC, said: "The accused has no previous convictions.
"Prior to this offence, he had not come to the attention of the police.
"Evidence was relayed in the course of this trial that just before the stabbing, Gordon and Colin (a friend) threatened the accused.
"Mr Diduca said 'we're going to murder you'.
"The Crown accepts that the threat of physical violence amounted to provocation.
"The accused has paranoid personality disorder, schizoid personality disorder and some traits of anxious personality disorder.
"This was exacerbated by the use of drugs."
The trial had heard how trouble flared when Little went to the door of a flat where  partygoers had been drinking, taking cocaine and listening to music for several hours.
Little pleaded guilty to four amended charges, including behaving in a threatening and abusive manner by threatening the occupants of Dundonald Court with a bow and arrows, repeatedly striking the door and attempting to force entry.
He further admitted that, at the communal staircase of the building, he assaulted Gordon Diduca, Jason Sinclair, Colin Hughes and Mona Elbakoush, threatened them and fired an arrow towards them.
A third, amended, charge stated that he assaulted Gordon Diduca by repeatedly stabbing him on the body with a knife, thus killing him.
Little also assaulted Jason Sinclair by striking him on the arm with a knife to his injury and permanent disfigurement.
A not guilty plea to possession of amphetamine was accepted by the Crown.
A further hearing into the circumstances of the case and Little's mental health will take place on Wednesday ahead of sentencing at a later date.