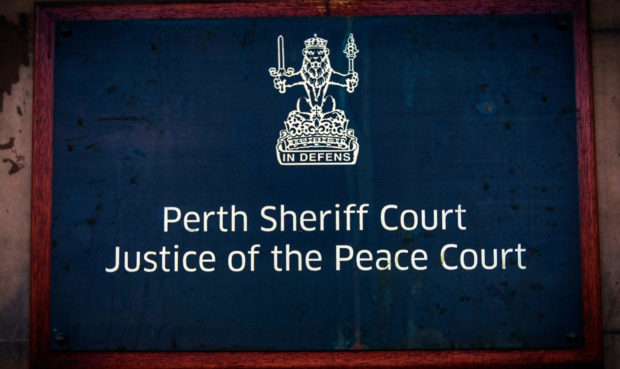 A man terrorised children by forcing them to put their hands out as he swiped a sword down towards them during a campaign of cruelty.
Garry Brand, also known as Yusuf, frequently forced young children to stand outside in the freezing rain and snow without shoes.
The 51-year-old picked on four young girls when they annoyed him and subjected them to systematic abuse spanning more than a decade in total.
Brand later made threats to another inmate, while he was serving a period in prison, to execute his wife during a dispute over ownership of a pet dog.
Depute fiscal Eilidh Robertson told Perth Sheriff Court: "All the girls told the police that between 2001 and 2007 they would regularly be put outside by the accused until he let them back in.
"That ranged from 10 minutes to an hour. They were only in nightwear and either had socks or were barefoot. The punishment was carried out in all weather conditions.
"They had no footwear in rain or snow. They were freezing and soaked. A witness saw two of the girls sitting outside in heavy rain in their nightwear. She felt terrible when she saw them."
Miss Robertson told the court the girls said Brand carried out the cruel punishment if they did something "naughty or annoying" when he was looking after them.
"They said the accused was short-tempered. He pushed one of the girls and caused her head to hit the wall."
She said Brand pulled an ornamental sword off the wall and wielded it at two of the girls for making too much noise.
"He came in with the sword and told them to put their hands out.
"He repeatedly struck the sword off the bed frame. This frightened both girls."
Brand, from Perth, admitted four charges of imposing cruelly excessive punishment on children aged from a few months old to 14 years of age between 2001 and 2007.
He admitted the sword incident had taken place at some point between 2001 and 2012.
He also admitted that during 2017 he made threats to execute his former wife while he was serving a 30-month sentence in Perth Prison.
Miss Robertson said: "He has been assessed as posing a high risk of reoffending against his wife. They were married for 28 years and that ended in July 2016."
Sheriff Gillian Wade deferred sentence for background reports and remanded Brand in custody.
Brand was jailed for 30 months and placed on the sex offenders register in 2017 after he admitted carrying out an armed sex attack in the hope that his victim would take revenge and kill him.
Brand admitted abducting and assaulting the woman in a Perth flat while holding a knife to her throat and sexually assaulting her.