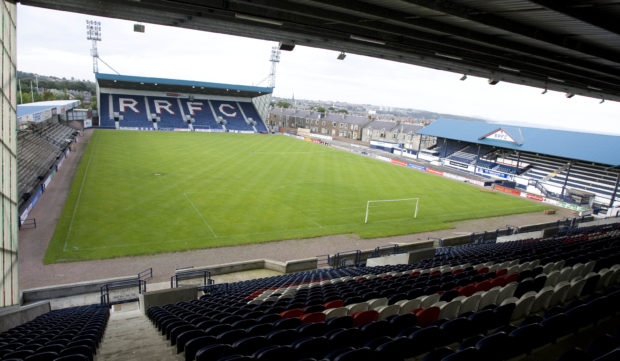 Two hooligans who damaged a pitch after setting off a smoke bomb at Stark's Park have been handed one year football banning orders.
The 16-year-olds, who cannot be named for legal reasons, appeared in the dock at Kirkcaldy Sheriff Court yesterday.
The duo admitted culpably and recklessly igniting a pyrotechnic device during the clash between the Raith Rovers and Dunfermline Athletic on January 19.
The court was told how large plumes of blue smoke was seen coming from the stands before the device landed on the pitch.
Depute fiscal Kavin Ryan-Hume said a woman and her two young children were forced to move away from the device which "almost hit the roof" before landing on the field.
The cost of the damage to the artificial pitch was said to be £320.
Defence solicitor Alan Davie told the court his client had purchased the smoke bomb online before the match.
He said: "He had gone to the game having purchased a smoke bomb. He bought it online.
"The purpose of doing that was that if Raith Rovers scored, he would throw it onto the park and thought that would be well received by the fans.
"He wanted to add to the drama and the atmosphere. He was somewhat surprised at the reaction of the fans nearby which was somewhat the opposite of what he expected.
"The women and her children were not struck by the smoke bomb but clearly they had some concerns.
"When he became aware that the police were looking to speak to him, he effectively arranged to bring the matter to a head.
"Since this matter came to court, his behaviour has been fairly mature in my dealings with him.
"He seems to genuinely regret his behaviour and understands the risks that there could have been if this had gone wrong."
Asked if his client was a Raith Rovers fan, Mr Davie added: "They would be described as his wee team. He goes to games quite regularly."
Defence solicitor Scott McKenzie, acting for the co-accused, said his client, who is a first offender, has since sold his Raith Rovers season ticket.
He urged the sheriff not to impose a football ban due to his client's young age and lack of offending history but said the teen would be able to pay a fine and compensation.
Sheriff James Williamson said: "You are both young men who regularly attend football matches so it will have been brought to your attention that pyrotechnics are prohibited.
"They prohibited for public safety and we have had information that a woman and her children had to move as a result of your actions."
He fined both teenagers £200 each and ordered them both to pay £160 compensation to Raith Rovers.
Bill Clark, chairman of Raith Rovers, said: "The club are satisfied with this outcome, and the issuing of banning orders to those concerned.
"In light of recent incidents at football matches in the UK we hope that this will act as a deterrent to anyone considering such behaviour in the future"