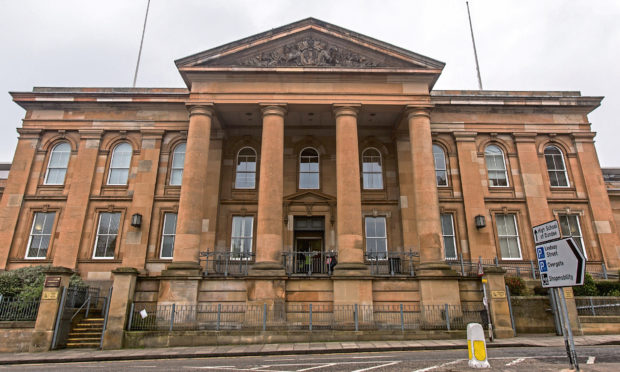 A Dundee father-of-two who stole thousands of pounds during a series of raids on city homes and businesses has been jailed.
Darren Jackson, who has a "lengthy" criminal record, broke into five premises in the space of less than three weeks in order to feed his heroin habit, Dundee Sheriff Court heard.
The 26-year-old targeted a woman's home, two pubs, a garage and a snooker club in the city, stealing a total of £4,542, as well as jewellery, electrical items and a cat litter tray, among other items.
Defence solicitor Anika Jethwa said: "He has a lengthy record with previous convictions of an analogous nature that have resulted in custody.
"There was a break when he was off drugs and settled with his partner. Unfortunately he started using heroin and after that his drug addiction escalated.
"His relationship broke down. The offences were to feed his habit."
The court heard Jackson is now taking medication to wean him off heroin and was going to the gym while on remand, which has resulted in an "improvement" in his presentation.
He pled guilty to nine charges involving break-ins, driving whilst disqualified and failing to adhere to a curfew, with some offences committed while he was on three bail orders.
On June 17 2018, while acting with an accomplice, he broke into a house on Glenogil Avenue and stole jewellery, electrical items, make-up and household items.
On the same date and in the same location, he drove a car whilst disqualified.
A few months later, on October 6 2018, he was outside his home address at 12.05am, when his bail conditions required him to be home between 7pm and 7am.
Jackson then broke into the Queen Anne Bar on City Road on October 29 2018, stealing £140 and two tills.
Around two weeks later, on November 13, he raided the Dundee MOT centre on Dura Street, where he stole £10 and a pair of gloves.
The next day Jackson broke into Shotz Snooker Club and Dundonald Street with intent to steal, and on November 16 he broke into A Johnstone and Sons newsagent's, where he helped himself to cigarettes, £4392, lighters, scratch cards, drinks, confectionery, cheques and a cheque book.
On November 26, while acting with another, the accused broke into The Barn in Campfield Square and stole a drawer containing cash, a cat litter tray, bottles of alcohol, an ice bucket and an envelope.
Sheriff Gregor Murray jailed Jackson for 32 months, backdated to November 29, and disqualified him from driving for four years.
He said: "The amount of inconvenience you caused would have been significant.
"You have clearly made an effort to change your life, but you have a record of housebreaking and dishonesty.
"This was a significant, planned course of offences."