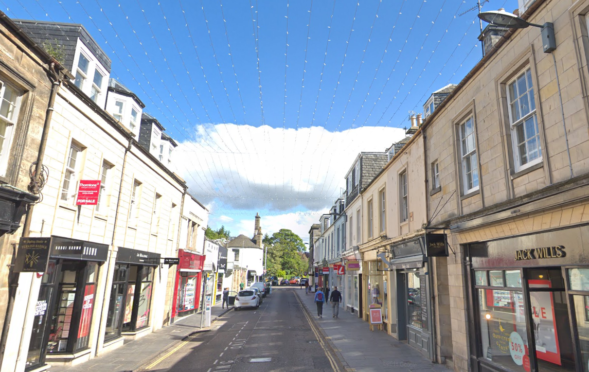 A creepy pensioner who scandalised St Andrews shop assistants by performing a sex act outside a store in broad daylight has been placed under supervision.
Alan Wilson, 68, was spotted carrying out the act "furiously" in his van, which he parked outside a shop in busy Bell Street.
He tried to hide his modesty under a newspaper but was seen by two women, one of whom reported feeling "shocked" and "disturbed" when she looked out of her shop window and realised what was going on.
There were also schoolchildren on their lunch break nearby, Dundee Sheriff Court heard.
Wilson, of Kenmount Drive, Kennoway, was spared jail on Friday and was instead handed a community payback order by Sheriff Thomas Hughes.
He was put under supervision for three years and ordered to complete the Moving Forward, Making Changes rehabilitation programme for sex offenders, as well as being placed on the sex offenders' register.
His details will also be passed on to the Scottish Ministers to ensure the protection of vulnerable persons, should Wilson come into contact with such.
Defence solicitor Jim Laverty said: "There is a detailed report available.
"It shows Mr Wilson has been more than free with social work in connection to how his life has been going over the past few years.
"There is a positive recommendation for a supervision order and treatment."
Wilson pled guilty to conducting himself in a disorderly manner, placing his hand on his privates and committing a breach of the peace on March 14 at Bell Street in St Andrews.
Procurator Fiscal Depute Lora Apostolova said: "The complainer was at the back of the shop on her own.
"She observed a small van parked directly opposite the shop. She saw a male sat in the seat. He had a paper in his hand.
"She observed that he was not reading it but was looking  all around, out of the window. and that the paper was shaking.
"The complainer noticed he was holding the paper with his left hand and his right hand was underneath the paper.
"She described the paper as moving up and down furiously.
"She observed that it (the street) was busy with pedestrians and high school children at the time.
"She was was shocked and contacted police. She was quite disturbed by the incident."