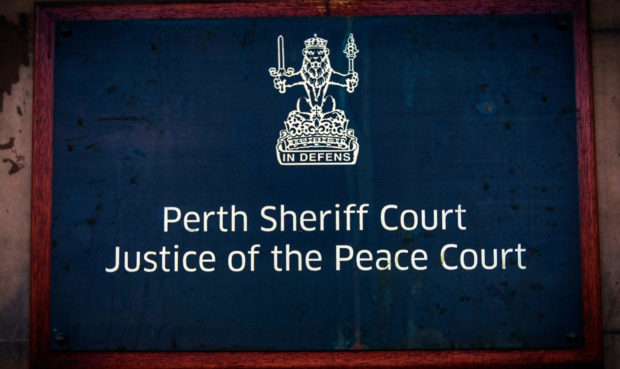 An amorous woman spent Valentine's Day in a police cell after her scantily clad dance failed to woo her partner and he had to barricade himself in a room and dial 999 for help.
The snub by her partner, Nicol Love, caused Vasilica Despa, 44, to fly into a rage and she carried out a vicious attack on him, while dressed only in her pants.
Mr Love was so terrified he dialled 999 and was advised to barricade himself in the living room.
Despa, who had earlier been found guilty at trial, had sentence deferred yesterday for the preparation of social work and restriction of liberty order reports.
Security assistant Mr Love, 52, told Perth Sheriff Court he spent nearly half an hour hiding in his living room with a chair propped against the door to keep Despa out.
An officer arrived at the scene and had to grapple with the scantily-clad woman on the bed before calling for back-up.
Mr Love said he had been in an on-off relationship with the Romanian-born cleaner for two years and they had moved in together in September.
He said: "She started to drink about 4.15pm. At 6pm I served the dinner but she decided she didn't want it.
"She started to goad me, saying I didn't love her and I was cold. I was hoping to have an early night because I was due to be up the next day at 5am for work.
"She kept coming up beside me, saying things in my ear. I ignored it and didn't want any part of it.
"She disappeared into the bedroom and came back just in her underwear, dancing round, with her mobile phone on playing loud music."
---
>> Keep up to date with the latest news with The Courier newsletter
---
Mr Love decided to leave the house in Montgomery Street, Kinross, but Despa began throwing clothes around the house so he phoned the police.
"When I had the police on the phone she started throwing punches and kicks at me," he said.
Police Constable Douglas Stapleton, 52, arrived at 8pm but Despa refused to let him in, and he told the court he had to shoulder charge the door to get in. Despa was wearing pyjama trousers and a robe, which was open, exposing her breasts.
Mr Stapleton said: "As soon as I got in she was barging into me repeatedly.
"She tried to kick me on the shins, spat in my face and it hit me right between my eyes, on the bridge of my nose.
"She came at me again trying to throw punches at me, flailing her arms.
"I had to push her back and she fell backwards onto the bed."
Despa spent the night in custody before being released, after appearing in court on Valentine's Day.
Despa, 44, Kinross, was found guilty of assaulting Mr Love on February 13, by punching his head and kicking him on the body.
She was also found guilty of attacking Mr Stapleton by repeatedly kicking him on the body, repeatedly trying to punch his head and spitting in his face.