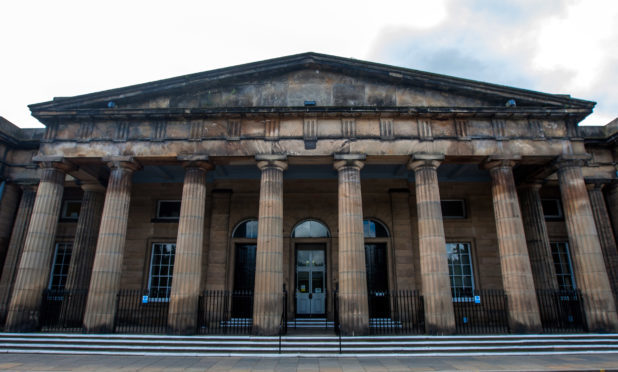 A teenager who kicked, punched and spat at a paramedic has been told by a sheriff to ditch "the dafties" or end up behind bars alongside them.
Sheriff Gillian Wade noted Connor Herman had brought a "fan club" to Perth Sheriff Court with him and warned him they were scuppering his future.
She launched a scathing attack on Herman's attitude and told him he would be jailed for more than a year if he failed to follow her orders.
The sheriff imposed a curfew on the 19-year-old and told him that he would be locked up if he failed to carry out 100 hours' unpaid work by the end of July.
She said Herman is highly intelligent and had been assessed as potentially having a brilliant military career if he changed his attitude.
"It's absolutely appalling," she said.
"There is nothing positive in the report about his attitude. I'm not impressed at all.
"He's got his supporting fan club… and that's helpful," she said sarcastically.
"There's a bunch of people up the back of court doing you no good at all.
"Most of them have been where you are standing now. You might all think you are very smart, but I don't and nobody else in the court with any sense thinks you are.
"You are on the cusp of ruining your life. You better get your act together.
"Nobody thinks you're clever or smart. Well, maybe your daftie pals do but when they are in jail and you are in there with them, will it be funny then?"
Herman, 19, lashed out at the trainee paramedic as they tried to prevent him falling down a flight of stairs after drinking himself into a stupor.
Sheriff Wade told the court: "People in the army are saying that you could have such a good career that you can reach the top level.
"You shouldn't be spitting at the ambulance service staff. That must have been a horrible experience for a trainee paramedic – somebody doing something good in the community.
"That makes you pretty horrible, which is very disappointing in someone of your potential.
"You must give yourself a shake and get back on track."
The court was told that paramedic trainee Alasdair Fyfe was part of a team called out to help Herman when he was found unconscious in a stairwell.
Depute fiscal Catriona MacQueen said: "They found the accused face down and unresponsive.
"As they prepared to move the accused, he looked at the student paramedic and lashed out with his feet and fists in an effort to hit him."
Herman, of Angus Court, Perth, admitted assaulting Mr Fyfe by repeatedly kicking and punching him on the body and spitting at him in Closeburn Terrace, Perth, on December 22.