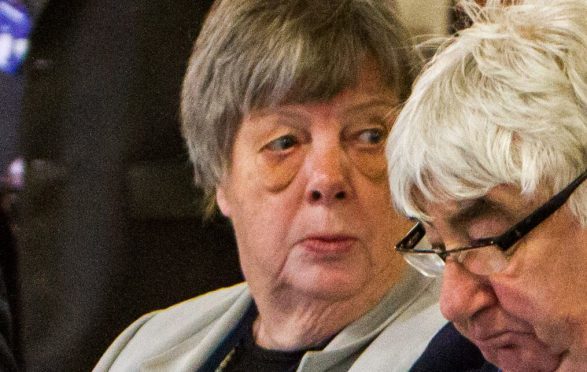 A long-distance lorry driver faces jail for causing an A9 crash that killed a popular Perthshire councillor.
Barbara Vaughan died in hospital after the tragedy near Killiecrankie, just weeks before Christmas 2017.
The 77-year-old Conservative councillor had been a leading figure in education across Tayside for decades, and a young carers' centre is being planned in her honour.
HGV driver Keith Murray appeared at the High Court in Glasgow and admitted causing her death by careless driving.
The 49-year-old will be sentenced next month.
The court heard that Ms Vaughan had been travelling along the A9 in her Renault Megane on the afternoon of December 1.
Prosecutor Angela Gray said roadworks along the stretch forced drivers, including Ms Vaughan, to stop.
A witness later told police that Murray approached in his Mercedes lorry and, despite the queues of traffic, did not appear to slow down.
"For some unknown reason, he failed to react to the stationary traffic," said Ms Gray.
The lorry ploughed into Mrs Vaughan's car, causing it to plunge down an embankment.
The Strathtay councillor was trapped in her upturned vehicle, while two passing doctors ran to her aid.
She was freed from the car and airlifted to Ninewells Hospital in Dundee with broken ribs and leg injuries.
She died three days later after suffering a collapsed lung.
Lord Arthurson was told that Murray had failed to react to the traffic situation in the manner expected of a careful driver.
Lawyer Barry Smith told the court: "(Mr Murray) is anxious that I should record his sincere regret and that his driving resulted in such a tragic loss of life."
Murray, of Jarrow, South Tyneside, was banned from the road and released on bail.
Mrs Vaughan served on several economic and educational boards, nationally and locally, including the Manpower Services, Commission, Scottish Exam Board, Scotvec and Dundee University Court.
She was also a former director of Pitlochry Festival Theatre.
Cross-party councillors paid tribute to Mrs Vaughan following the tragedy.
Lifelong leadning convener and fellow Tory councillor Caroline Shiers described her as "a champion for all children and young people", while local SNP group leader David Doogan said: "Barbara's funeral was attended by members from across the chamber, in what was a fitting testament to the extremely high regard in which she was held by all of us who had the honour of working with her."
Mrs Vaughan lived in Caputh and was latterly considering a move to be nearer her family, after the death of her husband Robin.
In February, Perth and Kinross Council announced details of a £250,000 advocacy support service – targeting groups of "young people at a key transition points in their life" – in her honour.