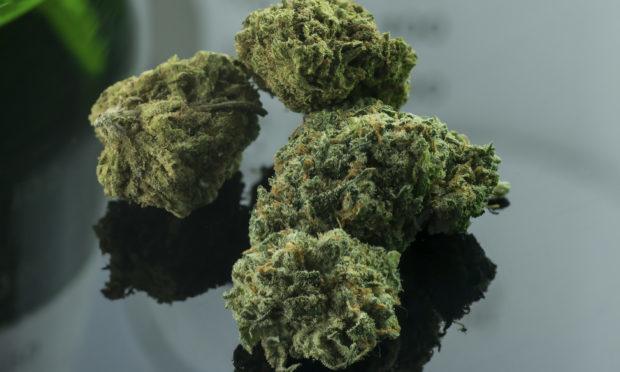 Drugs squad officers carrying out a raid on a suspected dealer's home were stunned when a postman arrived during the search to deliver a cannabis package.
The detectives were probing Steven Lorimer and were in his home when the illicit drugs package arrived, addressed to him.
Lorimer, 30, – who bragged about operating a "one stop cannabis shop" – was jailed for 39 months after he admitted supplying the drug between June 19 and February 12 2018.
Co-accused Craig Merchant, 25, of Scott Street, Perth, had sentence deferred after he admitted supplying the drug in St Madoes, Perthshire, on February 12.
Fiscal depute Eilidh Robertson told Perth Sheriff Court: "On June 19 2018, a member of staff intercepted a package at the Royal Mail sorting office as it smelt strongly of cannabis.
"The package was addressed to Lorimer. It was opened and three packages of cannabis, each weighing around 26 grams, was found within."
She said a search was carried out on July 18 last year and the accused was detained after arriving smelling strongly of cannabis.
Cannabis packages were also found in his rucksack.
When searched Lorimer had around £1,000 in cash and told police officers: "Everything in the house is mine, I use cannabis for medical purposes."
On February 12 2019 a further search warrant was executed at 3 Philip Redford Court, St Madoes. On this occasion both accused were in the property.
Cannabis in various forms and quantities was found throughout the house.
While the officers were searching the property a postman came and delivered a package addressed to Lorimer. It was searched and found to contain further cannabis.
Miss Robertson told the court the police recovered cannabis in herbal, oil, powder, liquid and capsule form.
Merchant admitted handling £4,680 worth of the drug.
Mobile phones were seized and in one message, Lorimer, St Madoes, bragged he had: "£1,200 burning a hole in his pocket."
He also sent messages offering a "menu" of different forms of cannabis and a price list as well advertising himself as a "one stop shop."