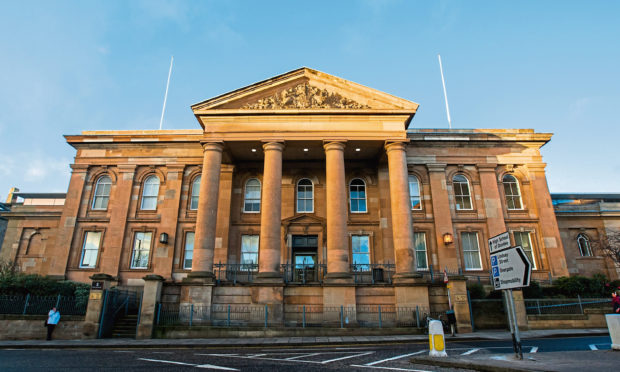 A Dundee man who smashed a glass over the head of his partner's brother during a Christmas Day argument about cannabis has been jailed for 16 months.
Peter Calame-Mascoll, 23, admitted attacking Josiah Herd at a property on St Mary's Road last year.
The pair argued after Calame-Mascoll was seen smoking cannabis in the back garden.
They scuffled in front of shocked family members before Calame-Mascoll swung his arm and struck the complainer on the head with a glass.
Mr Herd has been left with permanent scarring and needed nine stitches.
Calame-Mascoll had claimed he was provoked as he tried to leave the property once the pushing and shoving began but was pursued by Mr Herd.
Calame-Mascoll's solicitor had asked the sheriff to consider a non-custodial sentence due to the "extraordinary circumstances".
He added his client tells him he "runs through the incident every day".
He said: "I acknowledge the conviction would normally be visited by a custodial sentence.
"In my respectful submission, it's clear from the report my client does not blame Mr Herd entirely.
"He describes the incident as incredibly sad and something he will have to live with for the rest of his life.
"There does not appear to be any alcohol or drug issues. He has not touched cannabis since."
Mr Herd suffered a two-inch cut above his left brow as well as bruising and swelling.
Calame-Mascoll pleaded guilty to striking Mr Herd to his severe injury and permanent disfigurement under provocation.
Sentencing, Sheriff Alastair Brown said that despite the apparent provocation, the violent nature of the attack warrants a prison sentence.
He said: "Assault with a glass is an offence which I see far too frequently in this court. It's always serious.
"I feel it is my duty to impose a custodial sentence. Anything less is inadequate."
Calame-Mascoll was sentenced to 16 months in prison reduced from two years.