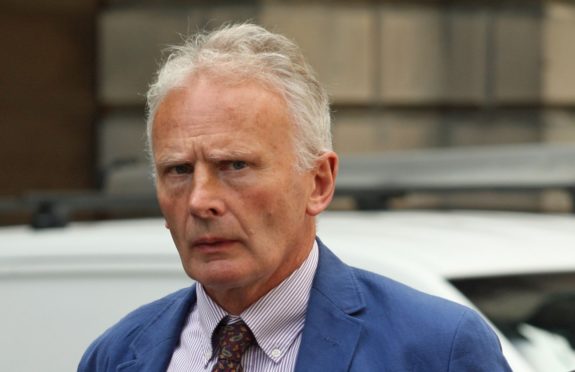 The High Court has delivered its verdict on a St Andrews businessman who made an audacious bid to avoid a speeding prosecution on the grounds the letter informing him of the offence was signed by a retired chief constable.
John Scrymgeour-Wedderburn, 64, was charged with speeding at 55mph in a 40mph zone at the Balfarg Junction near Glenrothes on April 26 last year.
After the offence was caught on camera he was sent notification of his intended prosecution bearing the digital signature of chief constable Philip Gormley.
However, the letter was dated April 27, 2018, several weeks after Mr Gormley stood down from the force's top job on February 7.
Dr Scrymgeour-Wedderburn, who already had nine points on his licence and faced a further three, challenged the decision through the courts and although his Sheriff Appeal Court was dismissed, he pursued the issue via the High Court.
Solicitors for Dr Scrymgeour-Wedderburn maintained a notice of intended prosecution was a formal document which required to be served on an accused, suggesting the notice was invalid because it came from someone who was not entitled to give it.
However, Lord Carloway agreed with the stance of solicitors for the prosecution who argued that the defect in the signature of the chief constables was "irrelevant" to the issue of whether Dr Scrymgeour-Wedderburn has been put on notice about his driving.
In determining whether a particular document constitutes a sufficient notice, Lord Carloway concluded "a modicum of commonsense" was needed.
He ruled: "The notice of intended prosecution in this case came on notepaper headed 'Police Scotland' and bearing that institution's official crest..
"There was a specific reference to the East Safety Camera Unit and to the relative website which, if consulted, would have made it even clearer that the Unit operated under the auspices of the police.
"All the requisite details of the alleged offence were given.
"The letter concluded with an electronic signature of a person who was not then the chief constable (a fact of which the appellant may, or may not, have been, aware).
"This was an error, but it was not one which affected the validity of the notice, which continued to meet the purpose of the statutory provision.
"It is not suggested that the error misled or prejudiced the appellant."