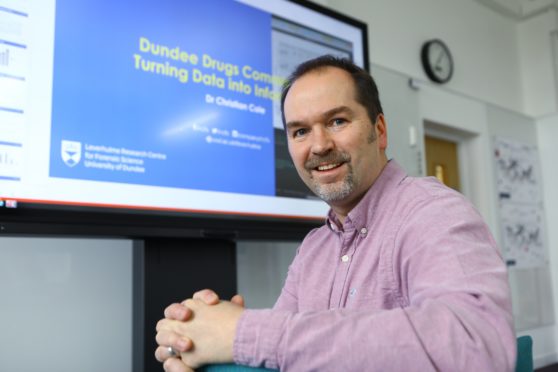 Academics who helped shine a light on the unique factors involved in Dundee's drugs deaths say more "deep dives" into statistics are needed across Scotland.
The work, by Dundee University's renowned Leverhulme Research Centre for Forensic Science, has helped inform a major report by the specially formed Dundee Drug Commission.
Some of the unique factors it found in overdose victims compared to the rest of Scotland were a higher rate of women, as well as known psychiatric conditions.
It was pulled together by NHS Scotland's Information Services Division (ISD) and passed on to researchers to analyse.
It's the first time such data, which is from 2016, has been released for an individual area in Scotland.
The team included Christian Cole, the centre's principal investigator, Niamh Nic Daeid, the centre's director and Michael Marra, the deputy director.
Also involved was senior lecturer in Anatomy, Craig McKenzie.
One of the headline figures uncovered showed an opioid substitute such as methadone was implicated in 42% of deaths in Dundee compared to 29% for the rest of the country.
Andy Perkins, director of Figure 8 Consultancy contracted to run the commission, spoke on behalf of the academics and said the data helps "narrow down" where policy should be targeted.
He said: "I think the one that caused us to really open our eyes was data showing more people in treatment on prescribed medication such as methadone are dying.
"That was the one that probably caught attention of a range of commission members.
"You look at it and think 'well, what's that about?' It starts to narrow down where policy should be targeted.
"There's more we can do with it. The power is when you put it alongside the stories and the narratives.
"So much of it matched up with our work with those with lived experiences.
"The data is there. We can get hold of it. We just need to ask for it.
"The cost was fairly minimal. It was around £1000 while the work by Chris and the team was given free of charge."
The data shows 66% of those dying lived in one of the 20% most deprived areas in the city. This is compared to 52% in the rest of Scotland.
67% in Dundee had a known psychiatric condition while in the rest of the country this was 55%.
Mr Perkins added: "It came back to that fundamental question: what is happening in Dundee that is different to elsewhere?
"Is there something different happening here?
"There was some uncertainty over whether there was any point in doing this but I think the results show there most definitely was.
"Every place in Scotland should have the same data."