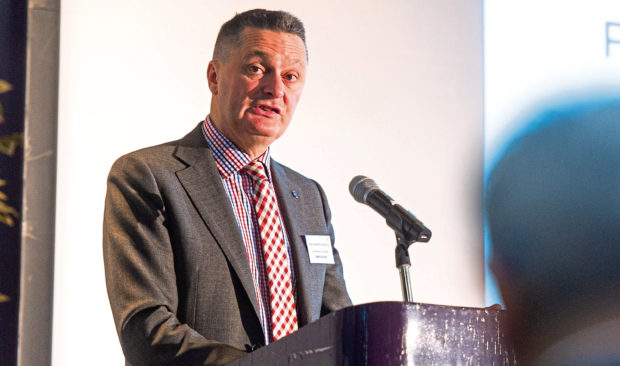 There are not many jobs that earn you £250,000 a year.
Sure, some footballers might pocket that in a week but such a sum is a dream for the majority of professionals.
Even rock stars are feeling the pinch since streaming hammered the industry and are cutting back on private jets and Bolivian marching powder accordingly.
However, if there is one sector where pay is booming, it is in Scotland's universities.
Professor Andrew Atherton, who we learned this week, had been suspended from Dundee University, was trousering a healthy quarter of a million quid a year in his job as principal and vice-chancellor.
Of course, at this stage, it is not clear if Professor Atherton will last a full year in the job as an investigation into allegations he had not paid full rent on a university property is currently under way.
At this point, it is worth noting that Professor Atherton has been found guilty of no wrong-doing and it may be that all the allegations made against him are fatuous.
But even if Professor Atherton does go down as the shortest-serving principal in Dundee University's history, his time in the city will still have seen him earn far more in a few months than most of its citizens can expect to take home in years.
And that is just taking his basic salary into account.
The accompanying benefits, such as pension contributions and the £40,000 paid to help him flit from Lancaster are, frankly, mind-boggling.
For most people, for most university staff and students, throwing such sums of money around seems ridiculous.
But the principal of Dundee University is not even the highest paid university principal in Scotland.
That honour goes to Professor Peter Mathieson, the top man at Edinburgh University, who earns £380,000 a year or more than a grand a day.
While many degrees may not be worth as much as they once were, universities have become businesses in their own right.
Each university is a city within a city, a place with a transient student population that provides a vital income to the shops and services around it.
And that's before you look at the thousands of staff universities employ, the research they carry out and the new technologies they create.
Universities also spin out a series of companies that will, again, provide employment and other economic gains.
Yet universities are not businesses or we at least hope they serve a purpose greater than economic churn.
They should, as Abertay, Dundee and St Andrews all do in their own ways, enrich their communities as they enlighten their students.
It means those in the top jobs – usually men, it must be said – require not only an academic pedigree but also business acumen.
It's a particular set of skills that few possess. But when principals and other senior staff are paid such enormous sums of money, they have to accept the responsibilities that come with it.
History repeating
Forget next month's General Election. Forget Leave or Remain. Forget, even, Friday's Dundee derby.
There is only one battle on the horizon where I care about the result and that is which pro-independence group wins the right to march in Arbroath next year.
That's right, both The People's Front of Judea and the Judean People's Front want to hold rallies to commemorate the 700th anniversary of the signing of the Declaration of Arbroath. There is no shortage of ill-feeling between the two groups: All Under One Banner and the Scottish Independence Movement, set up by Manny Singh after he was "expunged" from AUOB, the group he founded in the first place.
Whatever councillors on Angus' civic licensing committee decide, someone, maybe everyone, will be outraged.
I, for one, cannot wait.
Five Dundees of separation
Dundee gets everywhere.
For a small city it has some connection, often bizarre, to everything.
Take, for example, the new eight-part BBC adaptation of Phillip Pullman's His Dark Materials, which starts this weekend. Think there is no Dundee connection? Think again.
The programme has cast Lin-Manuel Miranda, the actor who made his name by creating Hamilton, a rap-musical based on the life of US founding father Alexander Hamilton that is, allegedly, much better than it sounds.
Hamilton is buried in Trinity Church near Wall Street. And who helped build said church? Only Dundee-born privateer and perhaps-pirate William Kidd, who is now subject to a fresh bid to clear his name.
Truly, Dundee is the centre of the universe.