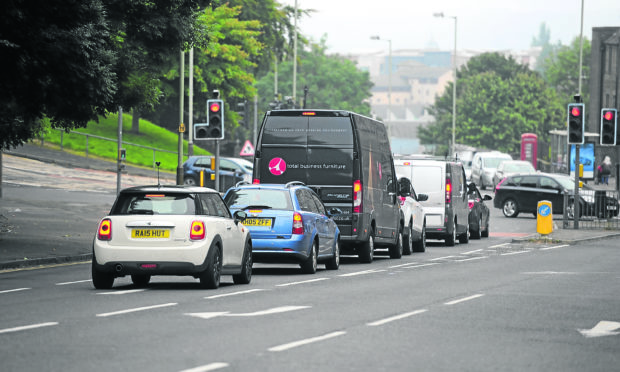 Dundee's Low Emission Zone has been slammed by Friends of the Earth Scotland after figures showed a busy route elsewhere in the city has been subject to illegal air pollution levels for more than 10 years.
Campaigners say Lochee Road has been ignored by the Dundee City Council bosses, despite the route being on course to break pollution safety standards again in 2019.
Lochee Road has breached legal limits for Nitrogen Dioxide (NO2), a harmful pollutant emitted by diesel vehicles, for more than a decade and is regularly ranked as one of the most polluted streets in Scotland.
Provisional figures for Jan – Sep 2019 show Nitrogen Dioxide levels at 42µg/m3, while the legal level is 40µg/m3.
Dundee City Council are currently consulting on Low Emission Zone plans which could see the most polluting vehicles kept out of the city centre in a bid to reduce the harm caused by traffic pollution.
Lochee Road is not included within the zone's boundary in the local authority's draft plans, despite its own reports previously highlighting health concerns about the persistent high levels of fumes.
Lochee Road resident Ramses Gallegos-Monterrosa, who works as a university researcher, said he worries for his health living in the area and hoped the council would reconsider its plans.
"Some of the contaminants commonly found in cars' exhaust fumes are heavy metals, which can be quite bad for the development of young people," he said.
"I think kids should not have a long-term life disadvantage just because of the place they happen to live in within a city.
"Many people live along Lochee Road – it is a residential area after all – so I imagine that this has an impact on a significant amount of Dundee citizens."
A 2011 air quality report from Dundee City Council said air conditions on Lochee Road were "poor and worsening".
In papers published last month, bosses admit many of the options being considered for the Low Emission Zone will still leave illegal levels of pollution on Lochee Road.
Friends of the Earth Scotland air pollution campaigner Gavin Thomson said: "The exclusion of Lochee Road from the Council's draft pollution plan is absurd.
"Dundee Council's own reports show they've been concerned about high pollution levels on Lochee Road for over 10 years.
"It beggars belief that the Council aren't acting to protect the health of people who live near or regularly use Lochee Road. They must revise their plans, and make sure one of the worst pollution hotspots in the country is tackled urgently."
A council spokesman said it is running an "extensive" public consultation on the boundaries and vehicle types for be excluded from the zone.
He added: "As part of that exercise respondents are asked: 'If you do not favour
any of the options, how do you think Dundee's LEZ should be configured? For example you may wish to see non-compliant vehicles excluded from Lochee Road'.
"Modelling predictions for the options in the consultation will deliver significant reductions in nitrogen dioxide on Lochee Road."