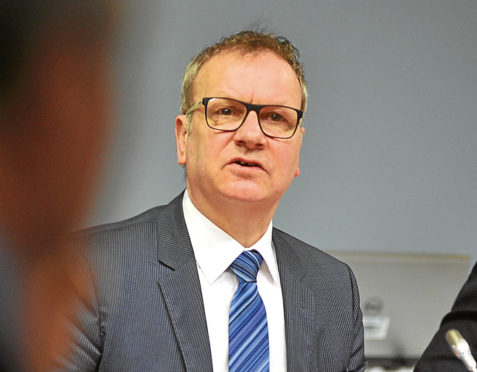 A cross-party group of Scottish MPs has said decriminalisation may be the most "pragmatic" method of ending Scotland's drug-related health crisis.
Led by Perth and North Perthshire SNP MP Pete Wishart, the Scottish Affairs Committee (SAC) today published their "all-encompassing" report on the state of problem drug use in Scotland.
The Scottish Government has also added to the drug death crisis in Scotland by cutting Alcohol and Drugs partnership budgets, making the situation "worse".
The committee, which has representatives from all of Scotland's Westminster parties, has called on the UK government to decriminalise drug possession as part of efforts to reduce "stigma" around drug users.
In Scotland last year 1,187 people died from drug related death, 66 of those were in Dundee.
The SAC heard evidence from a range of people who work with drug users and people in recovery too, including Dundee recovery worker and former addict Sharon Brand.
Ms Brand has been at the forefront of calls to listen to people with lived experience of drug use in shaping the way the country tackles the issue.
She said: "My experience at Westminster was amazing, they listened and I hope what was shared by all of us who gave evidence goes some way in changing policies and laws which currently exist.
"I am just not sure that it will.
"My opinion on lived experience is echoed through the last three years of my work.
"It has changed since I started, but I fear not for the better.
"You cannot recreate lived experience to fit a service or charity, which is why it doesn't work now."
Ms Brand warned previously the situation in Dundee was getting "worse before it was getting better" and that the drug death toll is even higher than officially recorded.
The SAC also recommends the introduction of safe drug consumption rooms – which would also require changes to the law, the use of evidence-based policy review and more money for treatment and recovery services.
As well as calling on the UK Government to enact change, the SAC found the Scottish Government should and could be doing more on the delivery of drug-related health treatment.
They note  its decisions, such as that to cut funding for Alcohol and Drug Partnerships in the 2016/17 Scottish Government budget, have made the situation worse.
Pete Wishart said: "Throughout our inquiry we heard tragic accounts of the pain and suffering that problem drug use is causing in Scotland. If this number of people were being killed by any other illness, the government would declare it as a public health issue and act accordingly.
"The evidence is clear – the criminal justice approach does not work. Decriminalisation is a pragmatic solution to problem drug use; reducing stigma around drug use and addiction, and encouraging people to seek treatment.
"The Health and Social Care have also said the Government should consider decriminalisation. It reflects the weight of evidence in support of this approach, and I hope the next government takes this recommendation seriously."
A Scottish Government spokeswoman said: "The outdated Misuse of Drugs Act 1971 should be amended to allow us to implement a range of public health focused responses, including the introduction of safe consumption facilities in Glasgow.
"We call on the incoming UK government to amend the Act or to devolve those powers to Scotland.
"We have invested almost £800 million to tackle problem alcohol and drug use since 2008. Our 2018 alcohol and drug strategy set out how an additional £20 million per year announced the year before is being used to improve local prevention, treatment, and recovery services in areas all across Scotland.
"In addition we announced through our 2019-20 Programme for Government a further investment of £20 million over two years to support local services and provide targeted support."