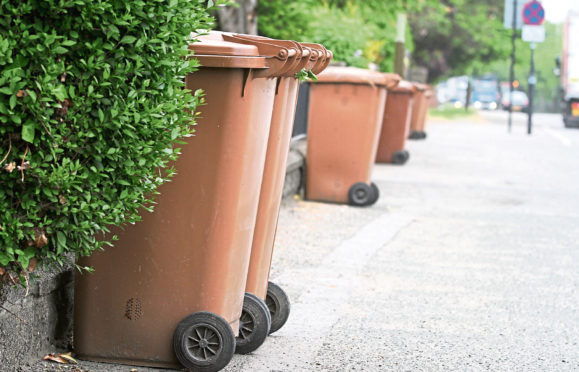 Furious Dundee homeowners have hit out at the introduction of charges for garden waste collection from next year.
Local residents have been sent letters informing them changes taking effect from March 2020 will mean those wanting to continue the service will be required to purchase a permit costing £35 a year for each bin.
Angry householders took to a popular social media page to express their outrage at the new fees, with many claiming collections should already be paid and accounted for through their Council Tax.
One user wrote: "We have two brown bins, which equals £70 per year. I take exception to this.
"We pay our council tax so why should we be helping them meet their overdue targets when they can't get their act together and manage their budget correctly?"
Another said: "Got mine this morning. I'm the same, already pay council tax to cover this. If we all agree to this then it'll be the blue and grey bins next. Shocking."
However, others were quick to note the budget restraints placed on the local authority or the fact collection fees are already applied in several other council areas.
One man wrote: "It's every council in the whole UK, not just Dundee and budgets are being slashed. They could just cut the brown bin entirely?
"It's £2.91 a month, less than a Starbucks. I'm happy paying it to keep libraries open, schools running and social workers in jobs. Let's all get a bit of perspective."
West End councillor Fraser Macpherson has claimed the fee will have a detrimental effect on recycling in the city, stating some residents will dump garden waste in traditional waste bins in order to avoid paying extra cash.
Mr Macpherson said the charging scheme will actually cost money initially as council officers estimate it will take £69,000 to set up the brown bin fees.
Dundee City Council has produced pages on its website with details about the permit scheme and how to apply. Residents will still be able to dispose of their garden waste for free at the city's recycling centres located at Baldovie and Riverside.
Neighbourhood resources convener councillor Anne Rendall said: "By continuing to take part in green waste collections, people will be helping Dundee City Council in its drive to meet ambitious national recycling targets.
"The charges will entitle residents to around 20 fortnightly uplifts from March to November each year, which works out at £1.75 per collection.
"The waste is taken to our Riverside facility and then turned into Discovery Compost, which is then made available to gardeners and farmers."
Dundee City Council has confirmed reminder letters will be issued to local residents and updates will continue to be posted across its social media accounts.
Home composting bins are available to purchase from the local authority for £20.