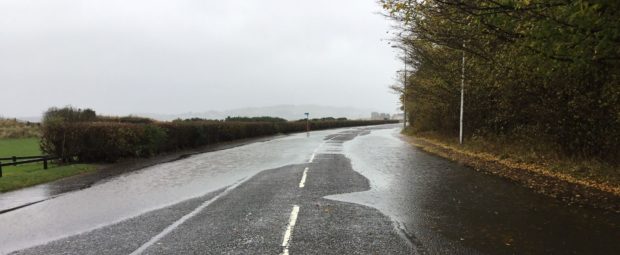 A Broughty Ferry councillor has called on the administration to "grasp the nettle" on road maintenance after a busy street flooded during  recent heavy rainfall.
Councillor Craig Duncan said constituents had complained about the amount of water on The Esplanade, which has failed to drain away.
He has concerns about drains not being regularly maintained and unblocked by Dundee City Council, due to budget constraints.
Councillor Duncan said: "This has been an issue for a number of years.
"When it rains heavily or persistently the whole road is covered in water.
"Residents have been in touch to say they've been soaked by cars driving by and it's also bad for the motorists.
"With the colder weather now there's also a real risk of the water turning to ice.
"It's also a low-lying road and it's quite flat, so the water doesn't get a chance to go downhill.
"I have concerns about the drainage and sewage network in Broughty Ferry as a whole.
"If you don't regularly keep them free of weeds, sand, leaves and other debris, then the water can't get into the sewers and stays on the road surface.
"I can see debris on some of the drains on the Esplanade now."
Mr Duncan explained that modern drain covers are larger than older ones to allow more water to come through, but the ones on the Esplanade are older and smaller models.
Flooding has also been an issue on Forthill Road and elsewhere in the Ferry, with claims that it is happening more often in recent years than in the past.
Councillor Duncan added: "The roads maintenance budget has been under pressure and I'm  not hopeful that this will change.
"However, I have contacted the council.
"If you don't put in the resources for regular maintenance then there comes a point when the infrastructure is crumbling and you're spending resources on dealing with emergencies.
"It's time to grasp the nettle and address the maintenance issue."
A Dundee City Council spokesman said: "We regularly monitor our road network and will talk to Councillor Duncan directly about his concerns."