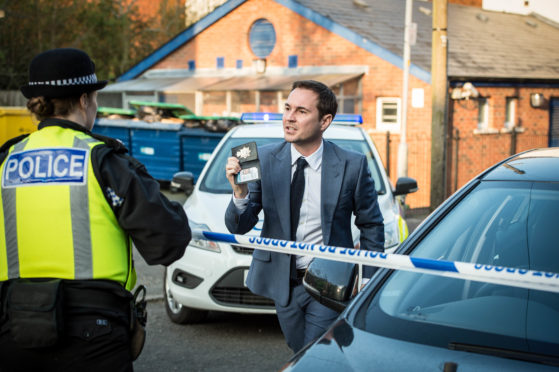 Scottish actor Martin Compston will not be donning the famous Dundonian accent in new crime drama series Traces.
Despite being best known for his part in Line of Duty, in which he uses an English accent, he admitted the challenging dialect was too hard to grasp after failing to understand former flatmate, The View's Kyle Falconer.
The 35-year-old from Greenock lived with Same Jeans star Falconer while in his 20s.
The actor joins a strong Scottish cast, including Laura Fraser, John Gordon Sinclair and Laurie Brett for new Alibi channel series Traces.
He will star as Daniel Macaffee in a new crime series set in Dundee. Traces follows a girl's hunt for her mother's killer, as Compston plays the love interest.
Speaking to the Daily Record, Compston said: "I lived with a guy from Dundee and I couldn't understand a word he was saying half the time. Having the east coast lilt is such a lovely accent, Dundee's an amazing accent but they can get through an entire conversation just by saying the word 'ken'.
"I'm going to try and sneak a few kens in there for the Dundee massive.
"To be honest this is a different accent to my normal one. When I go back to Greenock we're all a bit quicker and a bit stronger, this is probably what my mum would call my telephone voice.
"But it's just nice to do something which is Scottish based. We're filming a lot in Manchester but filmed in Dundee for our location stuff.
"It's a lively wee city, but it's a really beautiful place and that's the real soul of the job so it's nice to get up there and work with some phenomenal Scottish actors."
While Traces is a crime drama, Martin is not playing a police officer like he does in Line of Duty. Instead, he is a construction foreman who becomes involved with lab technician Emma Hedges (Molly Windsor).
She left Dundee to go to Manchester after her mother was murdered when she was seven. But her return to the city leads her to hunt down the killer who was never found.
Martin added: "I think with all good crime dramas everybody starts off formulating their different theories, but I really, really liked the character, it's something I hadn't played in a while.
"And I think with the amount of crime drama and stuff that's out there at the minute you need to be that little bit cleverer because people become sort of amateur detectives and they want to try and figure out who it is from the start."
Traces starts on Monday on Alibi at 9pm and will run on Mondays and Tuesdays for the next three weeks.