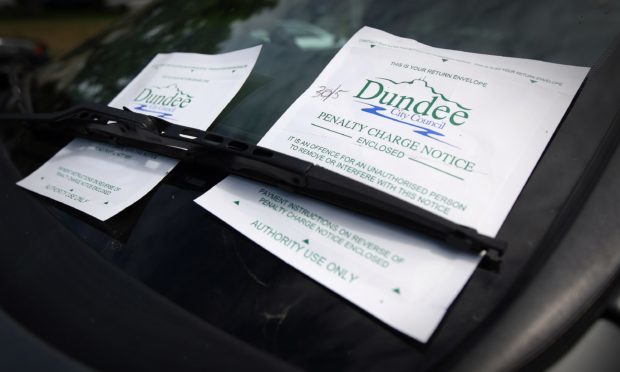 A Dundee dad has blasted the city council for refusing to tear up a parking ticket he was issued while his son was having a seizure.
Eddie Grady had dropped off his two sons, Edward and Sean, with their mother in town and was driving back home along Lochee Road minutes later when he received a call to tell him Edward, who is autistic, was having a fit.
The 45-year old raced back to the city centre and hastily parked on Cowgate before running to Murraygate to help the frantic family.
He put Edward in the recovery position, made sure he wasn't choking and waited for an ambulance to arrive.
Edward, who is 23 and requires daily care, was taken to hospital for tests. He has since been diagnosed with frontal lobe epilepsy.
In the time Mr Grady was helping his son, which he estimates was no more than 20 minutes, a traffic warden slapped a ticket on his car.
The Dryburgh dad accepts the vehicle was parked in a disabled bay but said he hoped the powers that be would show mercy on him when he explained it had been an emergency.
However, he was left aghast when the council refused to take the circumstances into consideration.
He has been told he is now liable to pay the full amount, £60, as he lost the chance to pay a reduced fee by appealing the ticket.
Mr Grady said: "I explained the circumstances which I felt were fairly mitigating, but received a letter back saying I was still liable.
"It is an absolute disgrace in my opinion.
"I completely realise there are a lot of chancers who try and get off with tickets, and I've had tickets in the past that I've been bang to rights on and paid.
"But I feel this was an extreme instance and and having provided them with all the details and reasons why, to get a letter saying I was still liable, that's too much for me to accept."
A Dundee City Council spokeswoman said: "All motorists issued with a penalty charge notice have the right to appeal and each case is considered on its own merits.
"We would advice that a formal representation with greater detail should be made to the council.
"Appeals can be done online or in writing as detailed on the reverse of the notice."