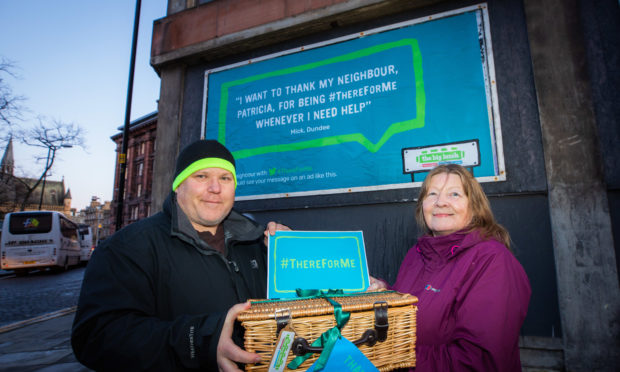 A Dundee resident has celebrated his "remarkable" neighbour as part of the national #ThereForMe campaign which aims to strengthen community spirit.
Created by the team behind The Big Lunch, the campaign encourages people to publicly thank their community stalwarts.
Research shows more than 48 million people believe life in the UK is more uncertain now than it was five years ago and 59 million say a strong community bond is necessary.
Mick Vine hailed the voluntary work of his neighbour Patricia Phinn, 61, who has dedicated years to supporting the local community and unveiled a billboard in the city's Euclid Street in her honour.
Thanks to her help, the 53-year-old was supported to keep active and get involved in the community after being diagnosed with Parkinson's disease in 2015.
He set up Whorterbank Community Garden as a safe space for locals and the pair have become regular volunteers, alongside another neighbour and his daughter Beth.
Mick said: "Patricia is a remarkable woman, exactly the sort of person you want to have as a neighbour.
"Outside of my own family, I know who I'd call for help first within my community. That's why I'm so proud to get the chance to say thank you to her properly with this billboard. Everyone needs a neighbour like Patricia."
Despite raising her granddaughter and caring for her sick husband, Patricia is a well-known figure in Lochee as she volunteers with a string of community groups, including the community garden, Whorterbank Laughter Club and out of school clubs for local children.
She said: "I have lived in Lochee all my life and there's always been good community spirit. So many times people focus on the negatives in the area, such as the drug crisis.
"But instead of ignoring these people for their issues, I'd rather just be there for them and help in whatever way I can – they're human beings at the end of the day.
"It's the kind of community where we don't have much but will always give our last to help people out."
Peter Stewart of the Eden Project, home of The Big Lunch, said: "There are millions of stories of neighbours helping each other out close to home, so it's fantastic to be celebrating ordinary people who go out of their way to help others.
"That's the spirit of The Big Lunch and why we're encouraging people to share their own special stories. Share your very own #ThereForMe story with us and help us highlight just how important strong bonds in our neighbourhood and communities really are."