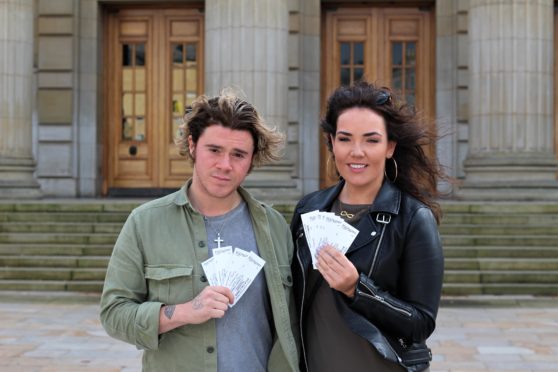 Party-goers in Dundee have been left in "limbo" after it emerged a troubled Hogmanay party will remove under-18s before midnight.
Plans for a street party in City Square were kicked to the kerb as Dundee City Council's licensing committee highlighted a number of safety concerns.
The event, billed as It's Happening, has been moved to Fat Sam's following issues over toilets, barriers, bus queues on Crichton Street and first aid provision.
New year revellers have been dealt a further blow after organisers admit licensing restrictions at the nightclub mean under-18s will have to leave the premises by 11pm, an hour before the bells.
Following the venue change, ticket holders were told they would not be eligible for refunds.
Event organisers, GMC Ventures, were condemned over fears under-18s would be denied entry to the nightclub as Skiddle advertised the minimum age as 18 on the ticket-selling site.
Organisers have hit back at the claims and said party-goers were issued with an email stating over-14s would be given access.
One father has expressed his anger at the restrictions and claims his family have been left in "limbo" over the change.
He originally purchased two tickets for the street party for his 17-year-old daughter and her boyfriend, as The View's frontman Kyle Falconer is set to headline.
He said: "I have forked out more than £200 between hotels and tickets because I wanted her to enjoy the street party with her boyfriend.
"I got an email after the venue change saying there would be no age restrictions, but hearing that they will have to leave before midnight is totally unacceptable.
"It has left plans completely in limbo as we can't get a refund. It's completely pointless for them to attend now as they won't get to be there for the bells.
"The curfew completely defeats the purpose of having a Hogmanay party and it seems like it's been badly organised from the start."
The event was set to be Dundee's first Hogmanay street party since 1999, and the downscale has caused public disappointment.
The Hogmanay party will also see performances from singer-songwriter Eddi Reader, rock pipe band Gleadhraich and Sinderins.
Jill Gibson of organisers GMC Ventures said ticket holders were notified of the change in advance.
She said: "We have got an under-18s licence, which means people who are 14 and over are able to attend the event.
"The licensing means they will have to leave by 11pm. An email was sent out to ticket holders to let them know of the changes taking place."
The event was initially billed as a two-day affair but sluggish ticket sales meant organisers had to cut the first night at City Square on December 30.