Climate change activists have kick-started an occupation of an oil rig at the Port of Dundee.
Extinction Rebellion protesters have boarded the Valaris 122 jack-up and are planning an "extended occupation" of the platform at Princess Alexandra Wharf.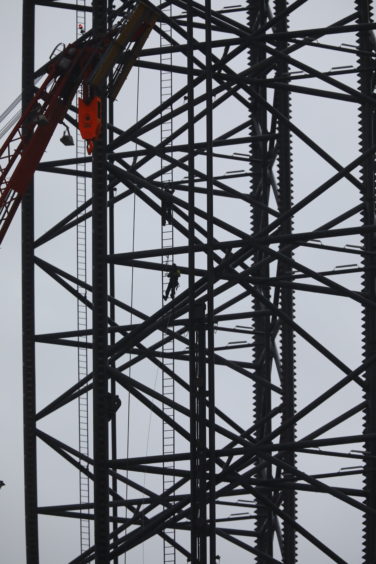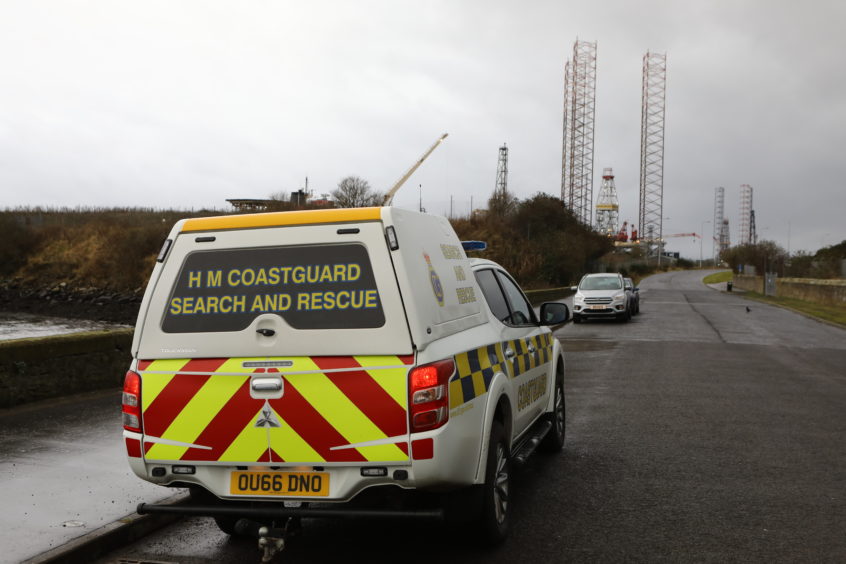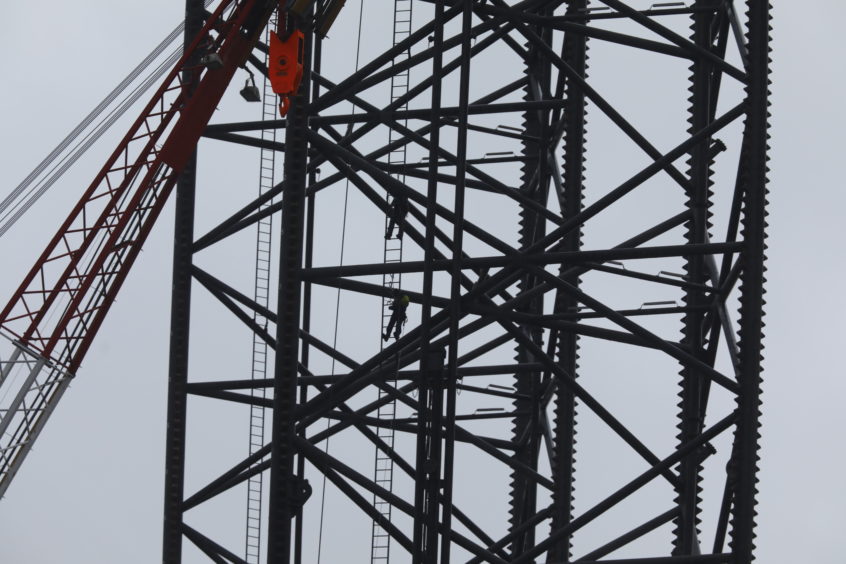 A group of three women, one of them from Dundee, has scaled the rig, accessing it from the River Tay.
Two of them are making their way up one of the rig's towers using climbing gear.
VIDEO: Watch as Extinction Rebellion activists scale huge tower on Dundee Port rig
Extinction Rebellion say its activists plan on remaining on the rig "as long as possible" in an effort to prevent it from returning to oil and gas operations.
The Dundee protester's name was given only as Alison.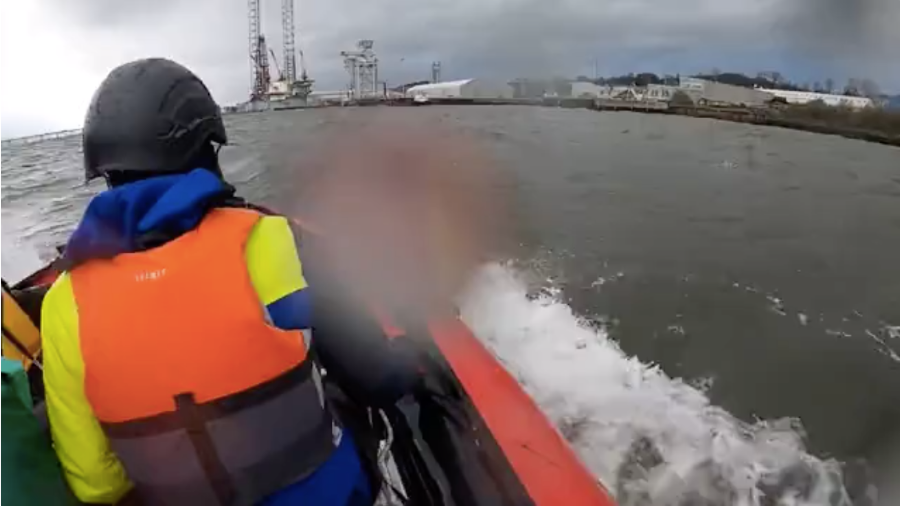 The UK Coastguard and Port of Dundee pilot boats are at the scene.
Police and the Scottish Ambulance Service have also been spotted at the scene.
As of 5.30pm, the force said no arrests had been made at the rig.
The occupation is said to be a part of a campaign called "Rig Rebellion Two" which is targeting the north-east oil and gas industry.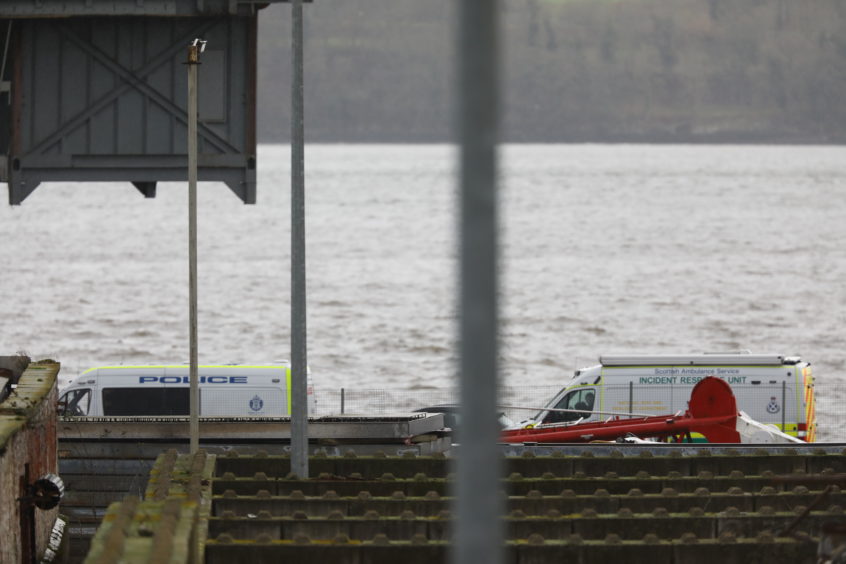 Extinction Rebellion Scotland said the takeover of the rig will be the start of 10 days of action.
As reported in Energy Voice, according to Valaris' latest fleet status report the 122 rig is scheduled to carry out a contract for Shell beginning on January 20.
A press release from Extinction Rebellion Scotland reads: "Australia is on fire. Half a billion animals have perished. Jakarta is flooded with 30,000 evacuated from their homes.
"Norway is experiencing an unprecedented heatwave. The Antarctic ice sheet is melting, with daily ice losses 50 years ahead of schedule.
"100 companies are to blame for 71% of carbon emissions. 20 companies, almost of all of which are fossil fuel companies, are responsible for a third of all carbon emissions.
"This morning, Extinction Rebellion Scotland activists boarded a Shell gas rig currently parked in Dundee Harbour, which is destined for the North Sea.
"They have scaled the towers and intend to stay up there for as long as possible to stop the rig leaving the harbour, and to halt the rig's extractive and destructive operations.
"They have assessed the risks and are properly prepared."
BREAKING: 3 XR Scotland rebels have boarded and climbing a Shell Gas Rig in Dundee. They are planning an extended occupation and XR Scotland have a series of solidarity actions lined up. over the next 10 days some that we are going to try and spread as far and wide as possible.

— Extinction Rebellion Scotland 🌍 (@ScotlandXr) January 6, 2020
This morning, three XR Scotland rebels have climbed up and boarded a @Shell gas rig in Dundee.

We're calling #RigRebellion2 to kickstart 2020. #ItsTimeToLevelUp and confront the North Sea oil and gas industry head on.#BurnInShell #OurFuturesGoingUpInSmoke pic.twitter.com/W5EXtVJYaL

— Extinction Rebellion Scotland 🌍 (@ScotlandXr) January 6, 2020
In an Extinction Rebellion press release, one of the activists – named simply as Jo, a 34-year-old gardener from Edinburgh – said: "I am doing this for my niece Ivy, who is an incredible little human. I don't want to say to her that I didn't take a stand when I had the choice and left it to other people to sort it out.
"I am going to give it my best shot and go down fighting, because I can see the world through her eyes and I want to protect things for her."
A spokesman for Forth Ports, the harbour's operator, said: "Earlier today, Forth Ports was made aware that a number of apparent protesters had made their way via the River Tay to the Valaris 122 jack-up rig, which is currently berthed at Princess Alexandra Wharf at the Port of Dundee.
"We have deployed one of our pilot boats at the scene and this will remain in attendance as a safety precaution should anyone require assistance.
"We are also liaising with the rig's owners and with the relevant authorities."
Oil and Gas UK chief executive Deirdre Michie hit out at the activists, claiming it is a "dangerous and short-sighted stunt".
She said the protest "does absolutely nothing to help provide the solutions which will be required to meaningfully deliver net zero emissions by 2045 in Scotland".
She added that a "premature shutdown" of the North Sea oil and gas industry would "only increase reliance on oil and gas imported from across the world where we have no control over emissions" and impact on jobs,  public services and energy security.
Ms Michie said: "This stunt puts both the activists and offshore workforce at risk and our industry – with its focus on safe operations – will not condone these actions.
"If Extinction Rebellion is serious about net zero then it needs to become serious about what will be required and recognise the critical contribution our industry could make if it realises its full potential to support the transition to a lower carbon and more diverse energy mix."
However Greenpeace UK climate campaigner Mel Evans jumped to the defence of the Extinction Rebellion members.
She said: "The XR Scotland activists currently braving the January weather to occupy a Shell rig in Dundee are right to call out the oil industry's role in causing the climate crisis.
"As the Australian bushfires rage and Jakarta goes underwater the world is beginning to see what a fossil-fuelled climate emergency looks like.
"2020 is set to be a year of increasing climate activism building up to the international climate talks in Glasgow in November.
"Greenpeace supports XR Scotland's demand for corporations and government, in Holyrood and Westminster, to start phasing down North Sea oil and gas production to help prevent catastrophic climate change."