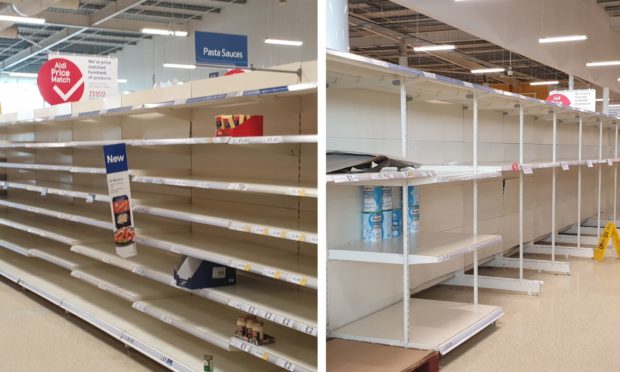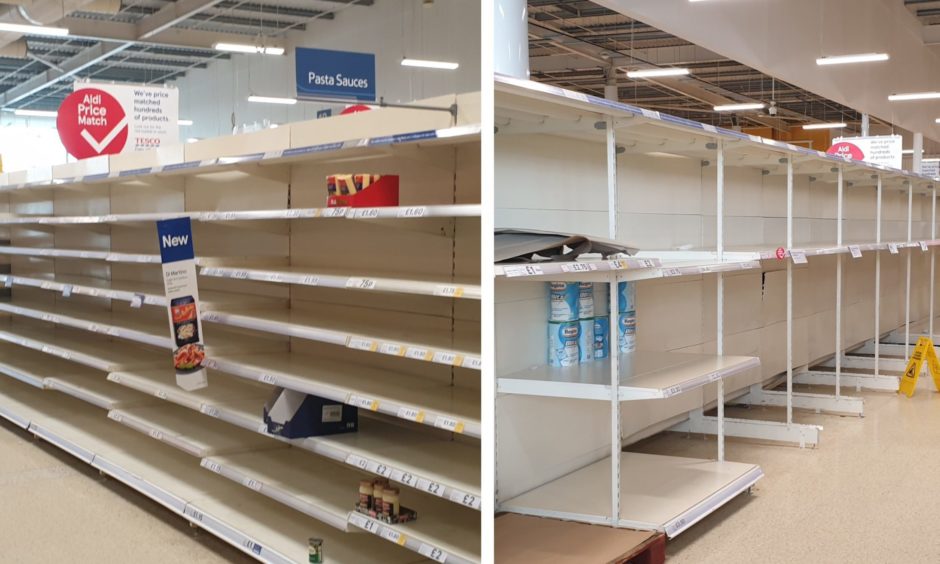 These images show the scenes at one of Dundee's busiest supermarkets at the weekend as locals stocked up amid the coronavirus outbreak.
Supplies including pasta, toilet roll and cleaning products were being cleared out at Tesco's Kingsway superstore on Sunday as panic-buying took hold.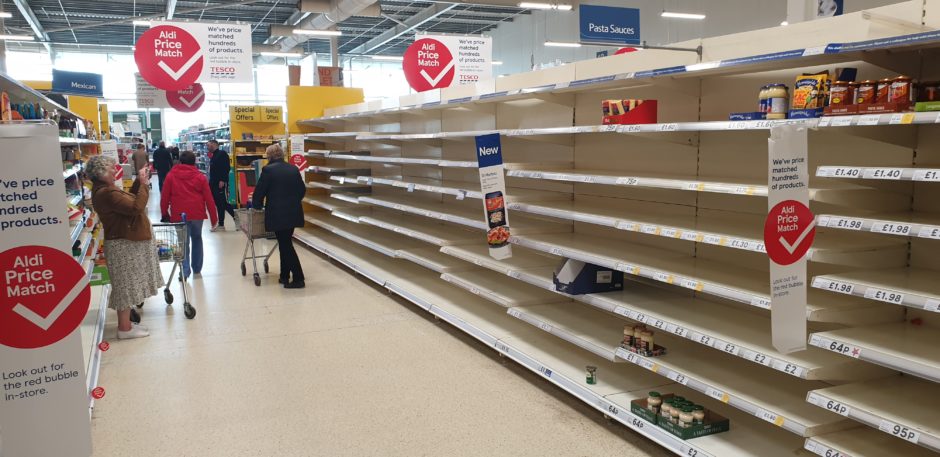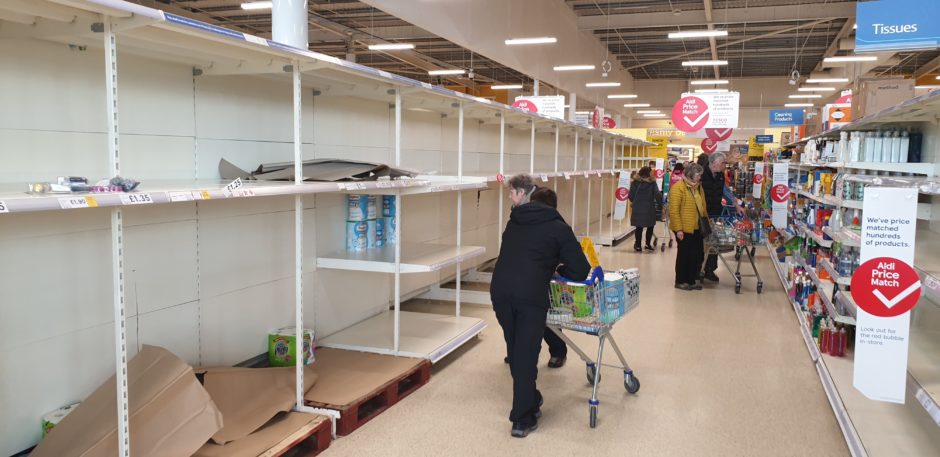 As of Sunday morning, 1,372 people across the UK had tested positive for covid-19 with 35 dying as a result of the disease.
In Scotland, 153 people have contracted the virus. Of this number 15 people are from the Tayside area and seven are from Fife.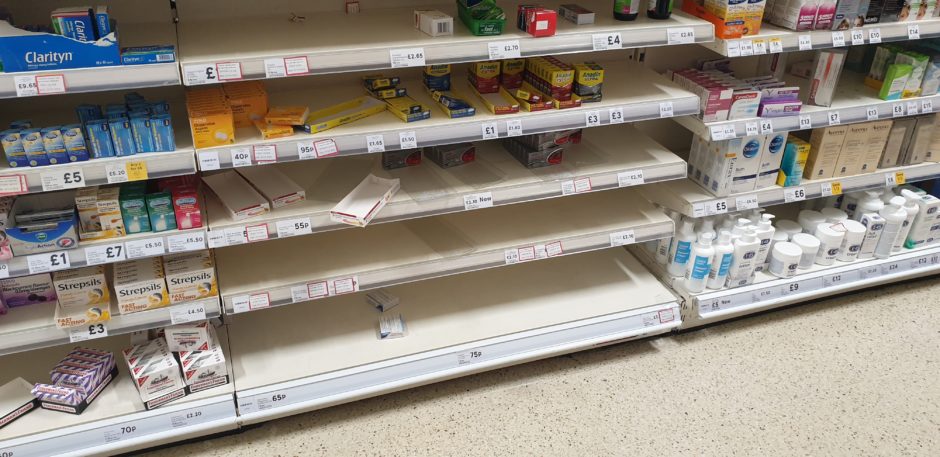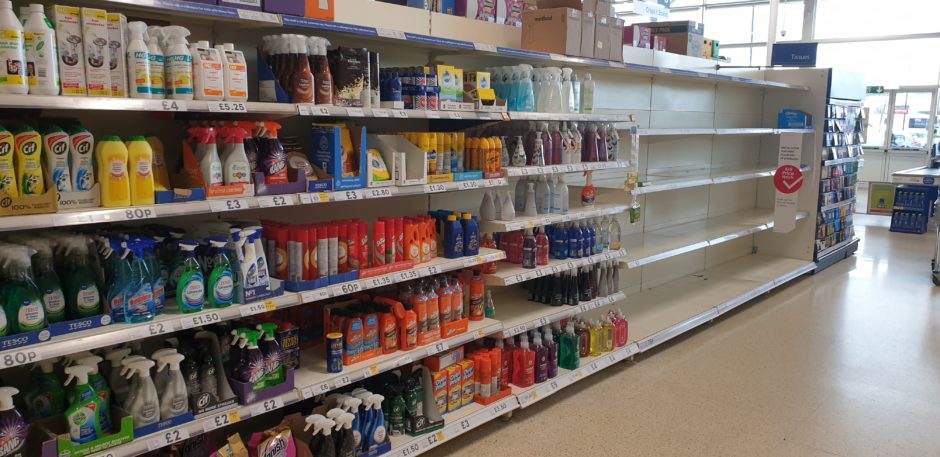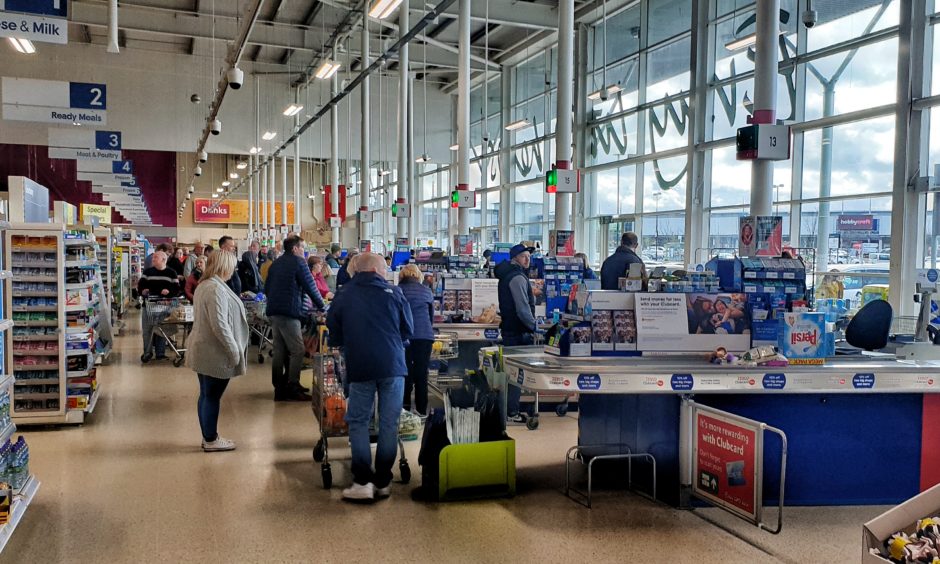 One person in Scotland has died after contracting covid-19.
The UK's retail giants moved to reassure the public after the scale of panic-buying across the UK was laid bare at the weekend.
A joint message issued on behalf of Tesco, Sainsbury's, Co-op, Lidl, Aldi, M&S, Asda, Iceland, Morrisons, Costcutter, Ocado and Waitrose – asked the public shop in a "considerate" manner.
The stores said "there is enough for everyone" – but only if people stop shopping in bulk.
It reads: "We know that many of you are worried about the spread of coronavirus (covid-19). We want to let you know that we are doing everything we can so that you and your families have the food and essentials you need.
"We are working closely with government and our suppliers to keep food moving quickly through the system and making more deliveries to our stores to ensure our shelves are stocked.
Panic Buying in Dundee Scotland pic.twitter.com/KUWqyEYlQL

— Rab Fitchet (@FitchetRab) March 15, 2020
dundee sainsbury's friday night pic.twitter.com/79EhBovDOK

— mikeylochee 🎯🍺🥩 (@1Mikeydfc) March 14, 2020
"Those of us with online delivery and click-and-collect services are running them at full capacity to help you get the products you need when you need them.
"We thank all our colleagues in stores and supply chains who are working day and night to keep the nation fed."
The statement adds: "But we need your help too. We would ask everyone to be considerate in the way they shop.
"We understand your concerns but buying more than is needed can sometimes mean that others will be left without. There is enough for everyone if we work together.
"Together we can make sure we are looking out for family, friends, neighbours. Together we will care for those around us and those who are elderly, vulnerable or choosing to remain at home.
"We are doing all we can t rise to this challenge. Serving you and keeping you and everyone who works with us safe will always be our priority."
Supermarkets including Tesco have sent this message to customers: we are doing everything we can to ensure you and your families have the food and essentials you need. We ask everyone to shop as they normally would – there is enough for everyone. pic.twitter.com/v655SKv80i

— Tesco News (@tesconews) March 15, 2020