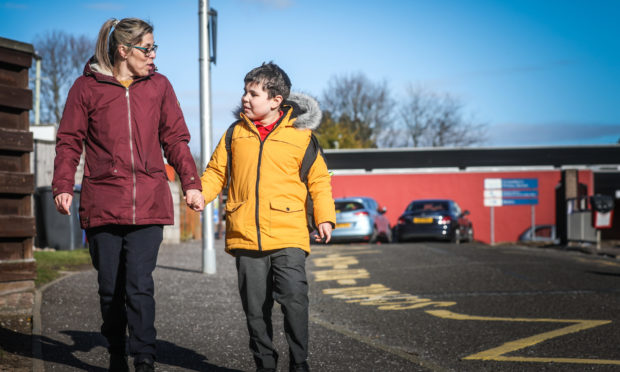 The closure of schools in Dundee and across Scotland has caused upset and stress among pupils, teachers and parents alike.
Teachers were forced to say a premature goodbye to their pupils while parents rush to put in place child care provision.
Some families in the city have had to go to extreme lengths to ensure their kids are looked after.
Wendy Moir said her mother will likely need to move in to her home to help with child care for her son Logan Thom, 9.
Wendy, who works at Craigiebarns, where Logan is a pupil, said: "My mum is 75 and so she would be classed as vulnerable to the virus.
"She would usually pick him up when I'm working but the problem is she lives in Monifieth so I can't expect her to do that now.
"I have no child care otherwise. It's looking like the only option."
Logan added: "Our teacher was upset and crying at the end of the day. I think she was sad because school is finished for a while."
Mum Kim Ogilvie said the situation has "gotten a bit strange".
She and husband Andy have three kids: Jamie, 9, a pupil at Craigiebarns, Natalie, 17, the head person at Craigie High, and Rachel, 16, also at Craigie High.
She said: "It's hectic for us right now as we have three kids. We've got one wee one to think about and two stressing about exams.
"I work with the NHS putting in place an electronic rostering system so obviously that is difficult right now and I'm working longer hours than usual.
"We have new staff such as those who have retired coming back in and the wards are moving around.
'It's out of our hands now': Emotional scenes in Fife as schools shut due to coronavirus
"Andy works away often as well such as in Glenrothes or Aberdeen.
"I think Jamie is looking forward to some time off but I don't think it has hit home yet that he might not be able to see his friends much now."
She added: "He has homework packs so he'll be busy with that hopefully."
Alex Ritchie, 24, whose boy Leo, 6, attends Longhaugh Primary, said the sudden closure of schools isn't a huge problem for her family.
The student nurse said: "There's not much you can do but carry on and deal with it. We know why it's being done and you have to accept it.
"We're lucky my partner works from home a lot anyway so we have child care in that respect."
There were also emotional scenes in Fife as pupils left schools for the final time.