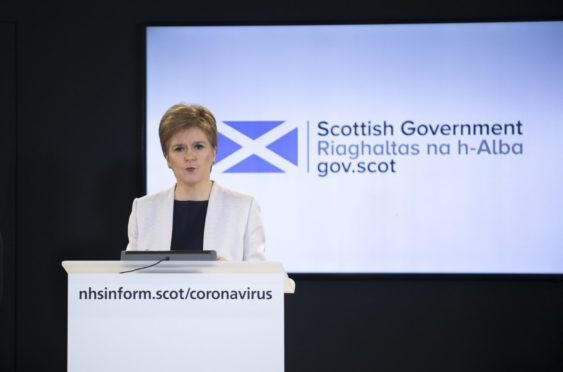 Workers across Tayside have called for tougher government measures to force non-essential businesses to close.
A number of employees from various industries contacted The Courier on Wednesday claiming they were still being required to work on-site despite not being classed as essential workers.
The members of staff, who did not want to give their names due to fear of repercussions, carry out duties such as manufacturing shower wet walls, valves for the oil and gas industry and fuel dispensers, payment terminals and forecourt control devices.
An employee at Shore Laminates in Perth said: "We have staff travelling from Dundee and Fife, and staff who have diabetes, suppressed immune systems and who live with relatives with cancer.
"We're supposed to be socially distancing but that's difficult to do on some machines.
"I don't think making shower wet walls is essential, and we hardly have any orders at the moment.
"I've spoken to my manager who said the decision is coming from head office, but HR is saying it's up to the managers – there's no clarity at all."
An employee at Pacson Valves in Dundee said staff were under pressure to come to work, where they have to operate machinery together.
The whistleblower said workers had been advised the company would continue as normal until it was forced to close, and called for the government to do this sooner rather than later.
Similar concerns were echoed by employees at the city's Dover Fuel Solutions.
Keith Crawford, co-director of Pacson Valves, conceded employees were not essential workers but said measures had been put in place to keep them at the recommended distance of 2m apart.
However, he admitted this was not always possible when workers were walking past each other.
He added: "We are following government guidelines on working from home and guidelines for working on-site, while trying to ensure employees continue to be employed.
"We are doing this until we are put fully on lockdown and the emergency passes."
A spokeswoman from Dover Fuel Solutions said: "We believe that the work being done at DFS Dundee is considered an essential business, as it serves the fueling industry,  which is vital in providing transportation.
"We have implemented enhanced hygiene and sanitation practices, social distancing, travel and visitor restrictions."
Throughout the UK, fashion chain Next is offering staff a 20% boost to their pay if they turn up to shuttered sites to sort clothes for online orders.
A spokesman for the company stressed the arrangements were voluntary and said: "A very small number of staff at any one time are required to help with online orders.
"This will enable social distancing whilst these tasks are performed."
The official advice is that people should only travel to essential work if that cannot be done at home.
First Minister Nicola Sturgeon has said if staff cannot work from home, employers should ask themselves whether their business is "essential" to the fight against coronavirus.
A Scottish Government spokesman said it could not comment on individual businesses but pointed to the latest guidance issued on Wednesday, stating all non-essential businesses must close.