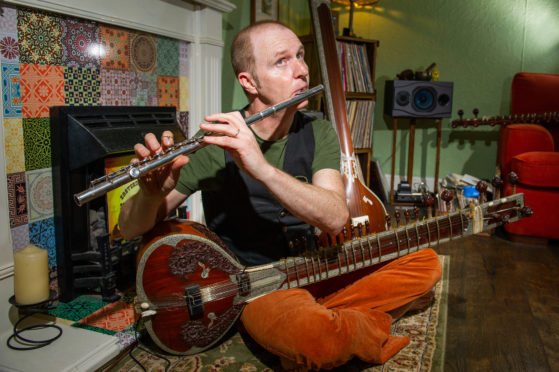 A Dundee musician has recorded and released a song to support a fellow performer out of work during the coronavirus outbreak.
Paul 'Lefty' Wright has written Howie Get on the Bus and released it on his Bandcamp page.
The song is a twist on Mr T's iconic catchphrase "I ain't getting on no plane" from 80s television show The A-Team.
The funk song, performed by Mr Wright's The Bongo and Lefty Big Band features local musicians 'Howie' on vocals, Jim Morrice on saxophone, Liam Brennan on drums and Mr Wright on guitar and organ bass.
It was mastered by Mike Brown and proceeds will be given to Howie, a Dundee DJ and drummer, who has been put out of work due to coronavirus.
Mr Wright said: "The song elaborates on that fact that Howie would never get on a bus with the band, only a taxi. Similar to Mr T.
"We'd love people to hear it. It's available for £1, with the proceeds helping the currently income-less musician.
"I'm giving the proceeds to Howie.
"I recorded the song as an instrumental when recording my album Songs from The Portal in 2013.
"A couple of years ago, both Howie and Mr T hit retirement age. I thought about Mr T's catchphrase 'I ain't gettin on no plane' and how Howie doesn't do buses so called Howie to come down to my studio at home and he did it in one take.
"It never fitted with the album so it sat unproduced until now."
Mr Wright plays guitar on the song, but he made headlines last year after recording flute part for a Paul Weller album — just three years after picking up the instrument.
He followed that up with the release of the album Music from an Eastern Western, which features a unique blend of music styles from far reaching parts of the world.
Musicians across Courier Country have been feeling the pinch as the lockdown costs them work.
Last month, award-winning Perthshire musician Callum Wallace called on the government to better support the self-employed as he faced no having no income for months.
Mr Wallace claimed the then-newly announced support package for self-employed would take long to come into effect.
The Scone musician, who gigs as part of the Music in Hospitals and Care Scotland network, lost all his upcoming concerts as Covid-19 wreaked havoc on social gatherings.