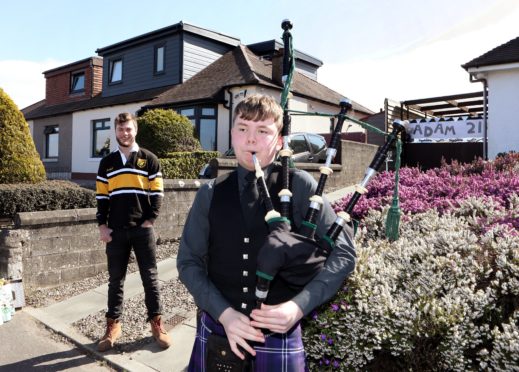 When birthday plans were cancelled due to the coronavirus, a talented Dundee teenager used his bagpipes to save the day.
Adam Burkitt, from Charleston, had hope to mark his 21st surrounded by friends and his girlfriend in Edinburgh on Saturday.
But his celebrations were cut short and he spent the day at home with his mother Julie and younger brother Jamie.
Adam, who studies mechanical engineering at Strathclyde University, also had to fly back from his study exchange in Iowa following lockdown restrictions.
In an effort to salvage the big day, Julie took to social media to recruit Arran Smith, a 13-year-old bagpiper from Adler in Dundee.
The Baldragon Academy youngster has been playing bagpipes for four years and was mentored by Lochee pipers 6th 8th Boys Brigades and Mackenzie Caledonian Pipe Band.
After learning Adam is a proud Scot, the teenager wanted to help make his birthday special.
He has also been helping the local community rally together in the midst of the pandemic by playing outside of his house every Thursday evening.
Arran also hopes to be able to play for NHS staff outside of Ninewells Hospital.
Proud mum Emma Smith, said: "He is a very compassionate young man and he likes to help people and make them happy.
"It's difficult to be able to give something back when you're 13-years-old but he felt he could cheer people up through his bagpipes.
"We hear loads of people way down the street cheering and praising him.
"I am hugely proud of how he plays the pipes and of how hard her works."
She said: "He is a typical boy who loves his Xbox but he is also caring and wants to help people and this is his way of doing that.
"It's not about making money, he just has such a passion for playing bagpipes and wants to help share his talent."
The Burkitt family had been hit with more cancellations this year, as Julie had to cancel her summer wedding, but after being impressed by the young piper she has decided to book him to play when she reschedules.
Julie said: "As Adam is a proud Scot, I reached out on Facebook to see if I could find a piper to come and pipe for him. Arran's mum Emma got in touch and we have been chatting ever since.
"I am delighted that Arran and Emma were able to do this, it will certainly made Adam's birthday memorable albeit not the birthday he was expecting to have."
Arran is available to book for various occasions and can be contacted on the Aaransmithpiper Facebook page.