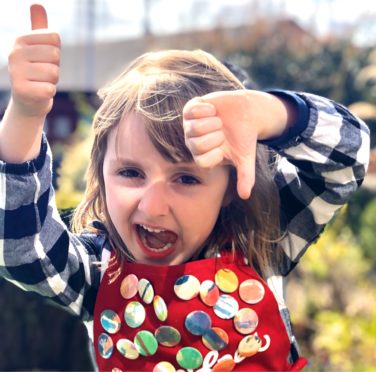 A kind-hearted Dundee girl has raised hundreds of pounds for the NHS after turning her original paintings into badges.
Sadie Cook's put her love of painting to use to create the unique designs, which were then made into four packs of badges and sold through her dad Richard's Spex Pistols glasses store.
The inspiring four-year-old has already raised more than £400 for NHS charities, after the first 100 badges sold out in less than an hour.
The fundraiser has attracted further donations from grateful customers.
Sadie had been inspired to create the one-off designs after learning about Captain Tom Moore's fundraising efforts.
She wanted to "help the doctors and nurses to fix people" after her parents told her of the 99-year-old veteran who has raised millions of pounds for health workers.
The budding artist enlisted the help of her father Richard and mother Sooz to create the popular badges.
Proud dad Richard said Sadie discovered her love of badgemaking at his Dundee store.
He said: "Sadie loves painting, she paints all of the time and the shop has a badge maker and everyone loves to make them, but Sadie loves it the most.
"When we told her about Captain Tom, she got very excited and insisted that she made badges to help the nurses and doctors to fix people – it was even her ideas to use some of her own paintings.
"We've all put work on it. Her mum Sooz, who is an art and design teacher got to decide which four went into sets and we've been up all night for the last three or four nights making the envelopes and labels.
"A real production line has been going on the kitchen table."
The family have been blown away by the response to Sadie's fundraiser, and Sadie is delighted the popularity means she gets to continue creating the badges.
Richard added: "We did a small Instagram post and then went out for our daily walk.
"By the time our hour was up, they had all sold out, plus we've had some very generous donations – one lady donated £100.
"We were all excited about the response, and Sadie was jumping about because it meant she'd get to make some more.
"She also loves going up to the post box and putting the packages in – we've had about five trips to all the different post boxes around where we live."
A pack of badges costs £3.50 including postage and can be ordered from https://spexpistols.com/blogs/news/sadies-nhs-badges.