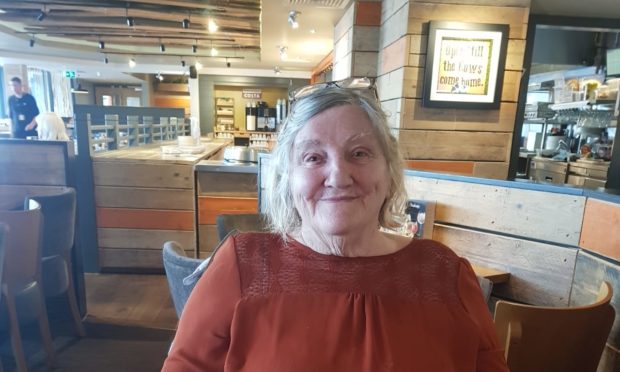 The family of a Dundee woman who died from Covid-19 say her chances of survival were "severely depleted" by the actions of her care home.
Yvonne Cullen, 75, died on May 1 after falling ill while she was a resident at South Grange Nursing Home in Monifieth.
She had been taken to Ninewells Hospital a week after showing symptoms but her family say she was not given appropriate treatment while in the home.
Her daughter Liz has reported the home to the Care Inspectorate, which is investigating the allegations.
Owners Barchester expressed sadness over Yvonne's death but said the company would not comment further at this stage out of respect for the family.
It had previously said the home followed "clear protocols" in her treatment.
Liz, who is a nurse at a hospital in Essex, said: "I'm not saying my mum would have survived anyway, however, her chances were severely depleted by the lack of proactive interventions by South Grange.
"We will not know that until the outcome of the investigation.
"We can only hope, if upheld, Barchester will look at how they may have failed my mum and hopefully this will not happen to anyone else in their care. We trusted them and we feel they betrayed the trust we placed in them.
"We are all obviously very sad, and I feel angry. She was allowed to have members of the family with her when she passed  away, and for that we are grateful."
Yvonne's blood-oxygen saturation levels dropped to just 83% while  she was at the home. Liz said her condition should never had been allowed to reach such a critical level. The pensioner, who had diabetes, was put on oxygen but died just over a week later.
Yvonne's son Larry Cullen said: "What we want to find out is why something wasn't done sooner. She might have had a better fighting chance. We think things were left a wee bit too late.
"I went back up to Dundee when things took a turn for the worse and the next day she died.
"It's all very difficult to deal with right now. We want to give her a good send-off but even that is hard."
The pair described her as a "great mum" who was young at heart and always tried to bring laughter to life.
She worked a number of jobs in her life, including as a taxi driver, which suited her love of people.
Liz added: "We all have very fond memories of my mother when were young, she was young and vibrant and always did spontaneous things to keep us entertained.
"For myself I can say not only did I love my mum, I liked her as a person. None of my friends at school when I was young said the same about their mothers.
"She was a great mum given the circumstances, life was not easy for her."
She is survived by daughters Liz and Yvette, and sons Larry and Donald.
A spokesperson for Barchester said: "The team at South Grange Care Home offer their deepest condolences to the family and friends who have lost a loved one in this awful pandemic.
"Every one of these deaths is a tragedy for all of us, and we send our heartfelt condolences to our residents, their families and our staff that have suffered.
"The home is in regular contact with Health Protection Scotland and the local authority.
"The safety and wellbeing of our residents and our staff is our utmost priority and we are closely following the official advice.
"We respect the privacy of our residents and staff in all matters and can therefore make no further comment at this stage."