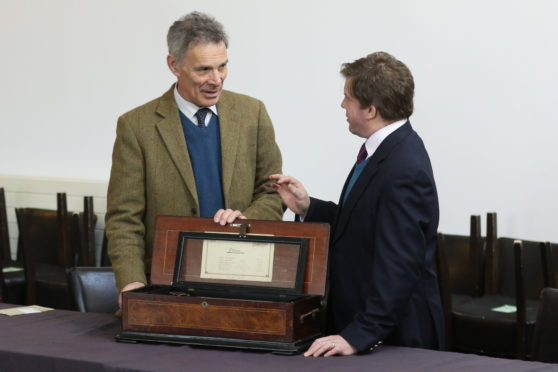 The economic impact of the Covid-19 pandemic could lead to an increase in the sale of family heirlooms by financially pressed households, according to the Scotland boss of a leading international auction house.
Charles Graham-Campbell, managing director of Bonhams Scotland, told The Courier a number of people had already been in touch to seek valuations about "bits and bobs".
With Bonhams Auctioneers now offering free online confidential valuations, he expected demand to increase as financial uncertainty across the country continued to bite.
"Unfortunately with the situation we are in now, people might be realising their pension pot is not going to give them so much, or maybe they've got grown up children laid off work with no money coming in," he said.
"Selling a couple of paintings might raise a bit of cash!"
In recent years, Bonhams have sold everything from highly sought after James McIntosh Patrick paintings and original Oor Wullie and The Broons albums to rare historical golfing memorabilia and a mould that was instrumental in Alexander Fleming's discovery of penicillin.
Now, as the coronavirus situation continues to impact on all aspects of life, Edinburgh-based Bonhams are hoping they may unearth future high profile gems by offering free and confidential online valuation appointments in the Dundee, Tayside and Fife areas.
From Tuesday May 12 until Thursday May 14 from 10am to 12pm, Bonhams is offering slots for people to have items of interest valued via photographs, video, Zoom or What's App calls.
Items they are interested in include all manner of art and antiques including pictures, silver, jewellery, ceramics, glass, clocks, works of art, furniture, Asian items as well as collectables such as whisky.
Mr Graham-Campbell said the international auction house had to suspend their physical valuations and auctions after auction houses were deemed to be "non-essential" businesses by government.
Under normal circumstances, auctioneers might visit a house they are invited to and see what catches their eye.
However, ahead of Bonhams plans to relaunch online auctions behind closed doors from June, Mr Graham-Campbell said that as well as people sending in photos and videos, the "virtual valuation days" would be an opportunity for homeowners to "walk a valuer around their house" from afar.
"We've always invited people to send in photographs but we haven't really done it to full-on video before," he explained.
"We liaise with colleagues who are world experts based in London or other offices around the world.
"If I have something Australian I'll send a photograph across to my colleagues in Australia.
"We always forward images. But we don't necessarily be videos or do Zoom or Whats App – until now that is!"
Mr Graham-Campbell said the first online auction they were planning for was a whisky sale on June 10.
A lot of whisky collections are bought by specialist overseas clients used to buying online anyway, he said.
However, there was also potential for people suffering financially as a result of the coronavirus situation to consider selling items that may have unexpected value.
"People have always collected with a view to selling things on when they get to a certain stage in life," he added, "or maybe they just need to downsize and move to a different house.
"But then there's people who are just inquisitive – maybe bored as hell! We can go around their house remotely and give an opinion on things. We are quite glad to help them, because we know what we are looking at and we can quite often see things that other people can't."
Charles Graham-Campbell took over as head of Bonhams' operations in Scotland in 2017.
Before that he had been head of Bonhams' valuations team north of the border for 13 years and was a member of the company's UK board.
He joined the firm in 2004 after previously running the valuations department at Christie's Scotland.
A native of the Highlands, he studied fine arts auctioneering and valuing at Southampton Solent university and is a qualified chartered surveyor.
Among the major items he has sourced at Bonhams is a Qianlong yellow jade carving of a tapir which sold in Hong Kong in 2016 for HK$2.7m; a pale green jade figure of Buddha which made £482,500 in London in 2014; and a painting by William Scott which sold for £197,000 in London in 2016 (all prices include premium).
For people interested in booking a virtual appointment with Bonhams Scotland, contact valuations.scotland@bonhams.com or call Grant MacDougall on 07711 093439 if in the Dundee area.