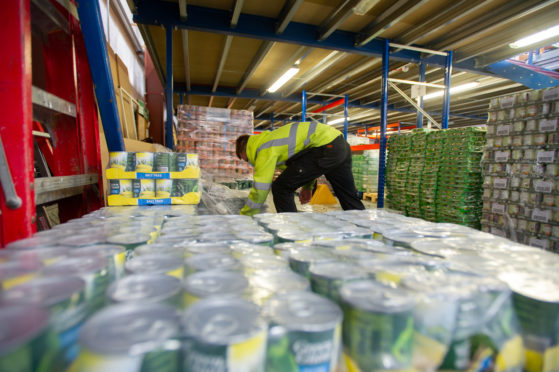 An emergency food provider delivering 160 tonnes of urgent supplies every month has said there are still more people in need of its help.
FareShare Tayside and Fife, which has been distributing food to charities and emergency coronavirus response groups, says demand has quadrupled since the pandemic began.
But it is feared there may still be people slipping through the net – and that need may grow in the coming months as more jobs are lost and furlough comes to an end.
The charity, which serves Tayside, Fife and Clackmannanshire, receives food donated by supermarkets and other donors and delivers it to smaller community groups to be dished out to those in need.
It has been based in a Dundee warehouse for seven years but has had to dramatically increase its operation from 40 tonnes of food per month pre-lockdown to 160.
David Nicoll, FareShare Tayside and Fife development and volunteer manager, said: "We could probably double what we are doing and people would still need it, that's the sad side of it.
"It's a hell of an amount of food but it still isn't enough. No matter how much we do, we could probably do more, so as long as the demand is there we will do our best to meet it.
"Some community groups are saying need is easing off but they are quickly replaced by new demand. There is also an expectation that people who have been furloughed may be out of work soon because their company can't afford to take them back."
He said no one working in the field was expecting a downturn in demand as the country moves into phase two or three of the coronavirus response.
"People are facing a lot of uncertainty in the coming months so if we can give them a bit of peace of mind so they at least know they will have food then that is a big help to them," he said.
FareShare was hit by a dip in supplies in the days of panic buying as much of its food is supermarket surplus.
Stores and the Scottish Government quickly responded to make sure there was enough food to supply those in need. David said he has been "overwhelmed" by the response from donors and volunteers.
"At the beginning of the week you can barely move for the stock we have and our team of volunteers turns it round and gets it back out," he said.
"The work has quadrupled and the volunteers and delivery drivers have been doing a constant relay.
"Most of the people here are volunteers and we expected people to stop coming because everyone is at risk but they just wanted to help others, the response has been amazing.
"We have been overwhelmed by the support we have had and we are confident going forward that the big suppliers realise how much need there is and will continue to step up to the plate."