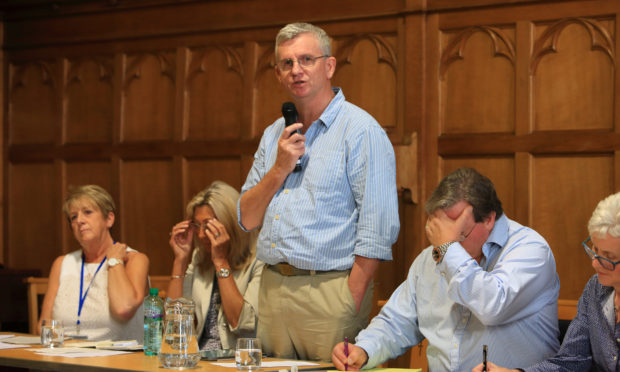 Health services in Tayside will not return "to business as usual for a year or more", the region's governing board heard.
Medical director Professor Peter Stonebridge updated colleagues on steps taken to tackle the pandemic and on the remobilisation of services as the "immediate crisis" caused by coronavirus has ended.
As staff at Ninewells are preparing to move the only patient still in intensive care with Covid-19 out of the high-risk ward, the director, deputising for the chief executive, warned Covid had cut capacity by half and added the disease was "not like the flu" and could result in patients having "problems for life."
Prof Stonebridge said: "If one can have a successful pandemic then we haven't done too badly. We have been very agile in the way we have organised our services to protect patients and staff. We have adapted very quickly.
"Clearly, now, there is an end to the immediate crisis. We still have Covid patients within the hospital so the event hasn't finished and I don't think any of us believe it's over.
"Everyone speaks of a second wave. There's not one indicated at the moment but it could build up very rapidly so we are quite right to emphasise the continual state of preparedness that we need to hold the hospital in."
He said Covid meant capacity dropping by at least half in some areas – such as surgery.
"We are ramping up what will be regarded as business as usual, but everybody has to bear in mind that the demands of Covid reduces our productivity markedly.
"As a result, we will not return to business as normal potentially for a year or more."
He said staff deserved "a small pat on the back, but we can still trip up on the next step."
Managers at the Dundee hospital are redirecting some of the 290 Covid-19 beds – separated from the "clean" part of the hospital in only nine days at the start of the pandemic – into use for treating other conditions.
NHS staff have also a begun to return to Stracathro Hospital after managers paused procedures in the North Angus hospital.
The board was presented with a report outlining non-urgent services and treatment coming back on stream between now and the end of July in 61 different areas, including diabetes, various types of surgery, cardiology and mental health.
Clinical teams had maintained an urgent care service including emergency services, cancer care, mental health, maternity and paediatrics throughout the pandemic.
Ronnie Erskine, non-executive board member said: "Whenever I hear comments that are all going one way, that are overwhelmingly positive, my mind flips the other way.
"We have to be ultra-cautious that we are not setting ourselves up for a fall because of something we have not seen.
"The work we're doing is fantastic, but we must always think of the future and not the past. We are as good as our next challenge."